Hansika Motwani on her wedding: My best friend turning into a spouse gave me ethereal joy
Feb 02, 2023 02:35 PM IST
In her first interview after her wedding, actor Hansika Motwani talks about her lavish wedding, and why she decided to turn it into an OTT series
Hansika Motwani started a new chapter of her life last year by getting married to her long-time boyfriend and businessman Sohael Kathuriya. The actor admits it has been a magical beginning, saying she is blessed to find her life partner in her best friend.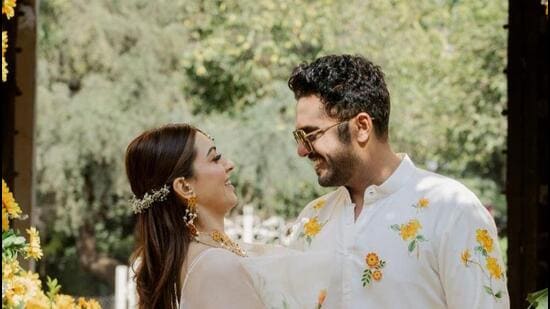 "A wedding is a fairy tale for every girl. More than celebrations, I was actually experiencing the serenity within. My loveable family, close friends, relatives, well-wishers, and best friend turning into a spouse beside me gave me an ethereal experience," Motwani tells us.
The 31-year-old adds, "People with beautiful hearts around me were the best decorations for this occasion. When I look back and see all those moments, I feel very blessed".
In fact, her wedding was an elaborate affair, and the actor confesses, "When it comes to preparation, my mom played a major role in planning and executing every single aspect. Of course, my brother, Sohael, his parents, and both our families made the entire journey smoother".
Motwani got married on December 4 last year at 450-year-old Mundota Fort near Jaipur. With Mata Chowki kicking off the wedding festivities, the pre-wedding functions included Haldi ceremony, mehendi, sangeet, Sufi night, a polo match, and a casino themed after party, which was attended by her family, and close friends.
While she has stayed guarded about her personal life since the start, she has decided to take her fans inside the whole wedding prep as a gift. And that is the thought behind turning her wedding into a web show, Hansika's Love Shaadi Drama.
Opening up about the thought behind it, the actor, who entered the industry as a child artiste, says, "Growing up as an actor from childhood, I have always been considered as a member of every family. The fans have seen me as a kid appearing before the camera, and now as a leading actress. My family comprises not just the ones connected with blood, but every fan".
"As soon as my wedding news was announced, fans all over the world greeted me. In fact, we wanted to host the wedding ceremony with the presence of as many fans as possible, but couldn't make it due to logistic issues. Although I enjoyed the whole process of the wedding ceremony, I felt bad about missing their presence. With Hansika's Love Shaadi Drama coming on a streaming platform, which owns a wide range of reach all over the world, and I am glad to have my wedding streaming so that my fans, friends, and well-wishers can watch," she explains.
She took a long break after her wedding for some timeout. Now, she is back at it, and loving the busy life. "There are lots of projects lined up for this year, and I am looking forward to experimenting with unique roles and scripts. I am excited about my OTT debut 'MY3'. A few projects are already completed, and some more new films will be announced soon," she ends.