Interview | Diljit Dosanjh: I don't work for money, I rejected a big film just yesterday
Updated on Jan 09, 2023 01:31 PM IST
Day after celebrating his 39th birthday, Diljit Dosanjh spoke to Hindustan Times about his work life and why he isn't chasing money in the entertainment industry.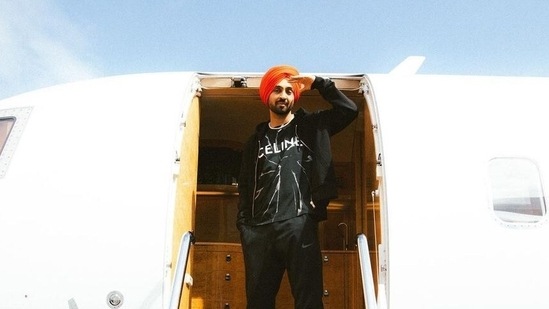 Diljit Dosanjh recently celebrated his 39th birthday. The singer-actor is currently working on his next with Imtiaz Ali and says he wants to do all that his heart desires, but at his own pace. He was recently seen in Punjabi comedy film Babe Bhangra Paunde Ne which has now appeared on ZEE5 after a successful release in theatres last year. In the film, he plays the role of a greedy man who tries all kinds of quirky shortcuts in order to become rich in short time and adopts an ailing old man as his father, gets him a life insurance policy which he can claim after his impending death. However, Diljit is not at all after money in real life. Also read: Funny house tour to unusual yoga, watch Punjabi singer-actor Diljit Dosanjh's hilarious videos
In a candid chat with Hindustan Times around his birthday, Diljit said he lives for pride and is happy doing the work he does best, singing and acting. "I live for pride. If I had cared about money, I would have done more films, more marriage shows, 4-5 Punjabi films every year. I never run after money. I always wanted to be famous ever since I was a kid. There is no limit to fame. I only want to do good work and enjoy my life. I am happy about whatever I am able to do and am grateful to God," he says.
On being asked if he too has a life insurance policy, he says, "I don't have a job with pension. My job starts from zero every day. I don't have such a safe career. After all, where will I take this money! Our life expectancy is 60-70 years, none of us will take it along."
Few weeks back, Diljit had said in an interview that he cannot do networking in Bollywood by attending parties every now and then and calling producers on a regular basis. The actor made his Hindi film debut with Udta Punjab opposite Kareena Kapoor and has since worked in quite a few films like Good Newwz, Phillauri, Soorma and Jogi being the latest one.
He continues to get a lot of film offers but money is not a priority for him. "I am currently working with Imtiaz Ali. Yesterday only I rejected a big film. I don't do something just for the sake of money, something I don't feel like doing. I only do if I like the subject. Yesterday, I heard a script from my favourite director's production house but I said, 'I don't see myself in this.'"
"I also do shows, create songs, release an album every year; it takes a lot of time. If I was only an actor, I would have done more films. If I was only a singer, I would have done many more songs. I am doing everything altogether but I don't want to beat the tabla. I am doing everything at my own pace," he adds.
Diljit is not just loved for his films and songs but also for his hilarious videos on social media. From giving a tour of his house for his own version of Architectural Digest to sharing funny kitchen videos, Diljit has time and again impressed his fans with his comic timing and honesty. He denies doing any sort of planning behind such videos and simply says, "We made chhole yesterday and made a video. Shooting wrapped up early so we will make some video today if we feel like."
Topics