Kareena Kapoor and Saif Ali Khan's son Jehangir Ali Khan wears black boots, woollen cap in adorable unseen holiday pic
Jan 28, 2023 10:04 AM IST
Jehangir Ali Khan was seen on a swing in an unseen picture from a recent Europe trip. Here's how fans reacted to the cute photo of Kareena Kapoor and Saif Ali Khan's younger son, also known as Jeh.
Actor Saif Ali Khan's sister Saba Ali Khan often shares photos of her nephews Taimur Ali Khan and Jehangir Ali Khan. On Friday, she took to Instagram to post an unseen picture of Jehangir, also called Jeh. In the undated photo from one of Jeh's recent Europe trips with mom Kareena Kapoor and family, the toddler was seen on a swing in a park, all bundled up in cute winter clothes. Saba also shared an old photo of Jeh's elder brother Taimur, and wrote a sweet caption for the siblings. Also read: Kareena Kapoor and Saif Ali Khan pose with Jeh on an airplane in unseen pics, Saba calls nephew 'everyone's dumpling'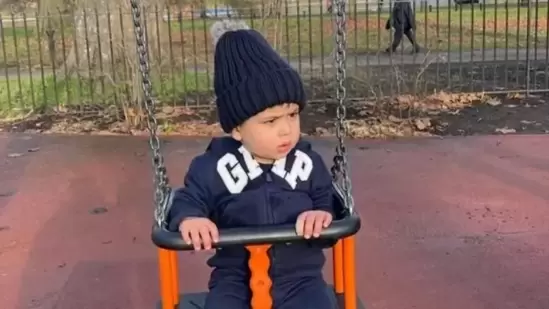 Saba Ali Khan, who is a jewellery designer shared cute pictures of her nephews Taimur Ali Khan and Jeh, and wrote in her caption, "Can you tell me what the age gap between my munchkins is? (No cheating) twinning at the same age!" In the photo Jeh looked intensely at something in the distance. He wore a black woollen cap with a black jacket and matching black boots. In the throwback photo she posted along with Jeh's picture, Taimur looked into the camera and posed as he climbed a tree. He was seen wearing a white hoodie with blue pants.
Many Instagram users reacted to Taimur and Jeh's pictures. One commented on Saba's post, "My cuties." Responding to her caption, where she had asked people to guess Jeh and Taimur's age in the photos, a person wrote, "Two years." Many others dropped heart emojis and left comments like 'adorable' and 'sweet' on the photos.
Recently, Saba had shared a couple of pictures of Jeh in which the toddler was seen on an airplane with his parents Saif Ali Khan and Kareena Kapoor. Sharing Jeh's photographs on Instagram, Saba had written in her caption, "Daddy's darling, mama's munchkin.? Which one do you (thinking face emoji)? He's everyone's dumpling that's for sure!!!" In both photos, Jeh was seated on his parents' lap inside an aircraft.
Jehangir Ali Khan will be turning two on February 21. His elder brother Taimur turned six in December last year. The brothers spent their Christmas holidays in the UK with parents Saif and Kareena Kapoor. The family had then brought in the new year in Gstaad, Switzerland. Kareena had shared pictures of their skiing trip and New Year's Eve celebrations on Instagram.