Mira Rajput plays Ranbir Kapoor's Brahmastra song Deva Deva on piano, fans call it 'beautiful and relaxing'. Watch
Jan 21, 2023 02:41 PM IST
Mira Rajput shared a new video as she played Brahmastra song Deva Deva on piano. Here's how fans reacted to Mira's Instagram Reels.
Mira Rajput has shared a soothing piano cover of Brahmastra song Deva Deva. Taking to Instagram Reels on Saturday, Mira shared the video in which she can be seen playing the song at her new home. She wrote 'a day to be grateful' along with a sun emoji in her caption for the video. Her fans looked impressed with her piano rendition and praised her in the comments section. Also read: Fans hail 'con artist' Shahid Kapoor for his performance in new Farzi promo, say 'rukega nahi'. Watch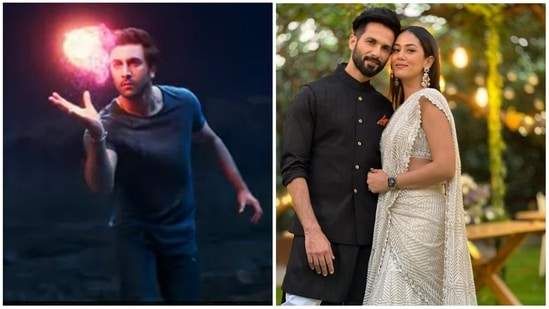 Sharing the video on Instagram, Mira wrote, "A day to be grateful. (sun emoji) Try this audio in your reels..." A fan commented on her post, "Good attempt." Another wrote, "Perfectly done". One more commented, "So beautiful and relaxing". Many also called her piano rendition "melodious", "soothing" and "beautiful".
Mira regularly shares pictures of her actor husband Shahid Kapoor, their new duplex and candid pictures and videos of their kids, Misha and Zain. Mira, who is a content creator and also associated with a beauty brand, recently expressed her objection on being labelled as a 'star wife' by media. Talking on the online chat show, Social Media Star With Janice season 5, Mira said, "We ought to get over it now. Maybe it was an association that one needed to make for recall value. But even if you put that on a kid, and you say star kid, people don't like listening to 'star kid' for all of its nepotistic connotations and all of that."
"But that term is still in use, like it needs to kind of find its way out and likewise, I have never understood the concept of a star wife, what does that mean?" she added. Questioning why the husband of a star is not referred to as a star husband, Mira asked, "You can have an actor or celebrity or a star who has a wife or a husband, nobody says star husband, why is there a star wife?"
Mira and Shahid recently moved from their Juhu residence to their new duplex house in Worli. Earlier this week, Mira shared a glimpse of how Shahid's mom Neliima Azeem, noted Kathak dancer and actor, has been teaching Kathak to their daughter Misha.