Navya Nanda reveals how 'mamu' Abhishek Bachchan defuses tension between Jaya Bachchan and Shweta Bachchan
Updated on Dec 06, 2022 03:08 PM IST
Navya Naveli Nanda spoke about 'mamu' Abhishek Bachchan on her podcast What The Hell Navya, and revealed how he defused 'tension' at home. She was joined by Jaya Bachchan and Shweta Bachchan on the finale episode of her podcast.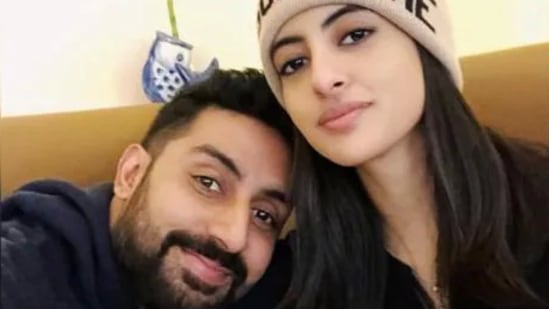 Navya Naveli Nanda was joined by grandmother Jaya Bachchan and mother Shweta Bachchan in the last episode of her podcast What The Hell Navya. In the episode, which was released on Saturday, Navya revealed what her 'mamu (uncle)' Abhishek Bachchan did whenever he saw 'tensions rising' at home. Jaya and Shweta had informed Navya about their recent 'discussion', and how Abhishek tried to 'defuse' it. Also read: Navya Naveli Nanda says grandmother Jaya Bachchan 'would bash a lot of people up' if she could
On the podcast, when Jaya told Navya, "Yesterday you were not there, so you missed out a lot of action on the dining table," Shweta said, "What did I do?" In response, Jaya said, "You didn't do anything… (we had a discussion) and then mamu (Abhishek Bachchan) started playing music, and was saying, 'Swetdi (Shweta), play this music for mumma'." Navya chimed in to ask, "To defuse (the sitaution)?"
After Jaya confirmed, Navya Naveli Nanda said about Abhishek, "Mamu always does that. Every time he sees that the tensions are rising, he starts playing some music. And it is always not calming music. It's always some house tech music…"
Jaya and Amitabh Bachchan married on June 3, 1973; they became parents to daughter Shweta in March 1974. Their son Abhishek Bachchan was born in February 1976. Jaya and Shweta have been joining Navya on her podcast in recent months, where they have also been sharing details of their personal lives and their relationships with each other. A new episode of the podcast was released every week.
In an earlier episode, Navya and Shweta Bachchan had said that everyone in the family took Jaya's opinion 'very seriously'. Navya had said about Jaya, "You are like the glue of the family. Everyone takes your opinion very seriously…" Shweta had then added, "For me and my brother (Abhishek), your (Jaya's) approval is very important."