Nawazuddin Siddiqui's wife Aaliya feels 'trapped' inside actor's house after FIR against her: 'I am scared to step out'
Jan 27, 2023 03:24 PM IST
Amid Nawazuddin Siddiqui's wife Aaliya Siddiqui and mother Mehrunisa Siddiqui's property dispute, the film producer recently claimed that she is being harassed at home.
Nawazuddin Siddiqui's wife Aaliya Siddiqui, in a new interview, claimed that she is being harassed at her home. Her claims arrived after the actor's mother filed a complained against her due over property dispute. Aaliya who is currently staying at Nawazuddin's Andheri house, said that she feels trapped inside her house and is scared to even step out in her situation. Also read: Aaliya Siddiqui reacts to FIR filed by husband Nawazuddin Siddiqui's mother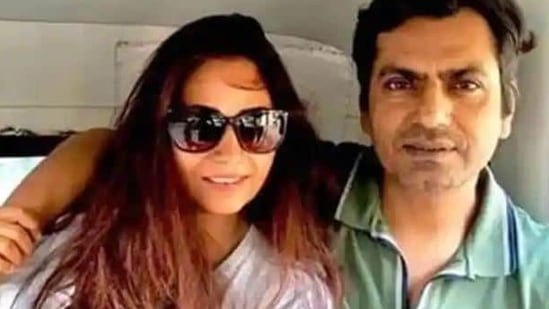 Aaliya reportedly returned from Dubai with her kids, Yaani and Shora, due to passport issues. She alleged that things took a different turn when she returned to the actor's house. She had an argument with Nawazuddin's mother, Mehrunisa Siddiqui, according to the Versova Police, and was called for questioning earlier.
Talking about it, Aaliya aka Zainab, told ETimes, "My access to the kitchen is banned and I have made the living room sofa, my bed. My friends who send food are not allowed to come in and I am scared to step out, even till the gate to fetch the food. What if doors are closed behind my back?" She also said that she has not stepped out to record her statement to the police in the matter and managed to get it done through her lawyer.
Aaliya also said, "I have known Nawaz for over a decade, I married him when he was not such a popular star. So as his wife, why am I not allowed to live in my own house? Even delivery agents are not allowed in the house, I feel trapped," When asked why she doesn't move out of the house, she answered, "I don't have any alternate accommodation. Besides, why should I leave what is rightfully mine?" The report also mentioned that Nawazuddin is yet to respond to Aaliya in this matter as she is gearing up to take legal action.
Zainab is Nawazuddin's second wife as per news agency, ANI. Nawazuddin and Aaliya aka Anjana Kishor Pandey aka Zainab got married over a decade ago. They share two kids and were heading for separation years ago. Aaliya had accused Nawaz of infidelity in a 2020 interview, and his brother of physical violence. Later, in 2021, she cancelled her decision to divorce Nawazuddin. However, the two were living separately.
Nawazuddin was last seen in Tiger Shroff and Tara Sutaria-starrer Heropanti 2.