Pakistani actor calls Shah Rukh 'universal superstar'; reacts to people saying she made statement to get noticed by SRK
Jan 29, 2023 03:14 PM IST
Pakistani actor Anoushey Ashraf called Shah Rukh Khan a 'universal superstar' in a recent post. She said even if Pakistanis feel she shouldn't promote Bollywood, she will be a 'forever' Shah Rukh fan. Now, she has reacted to social media users, who said she made the comment only for his attention.
Actor Shah Rukh Khan's return to the big screen with Pathaan has been celebrated by his fans and peers alike. Shah Rukh, who was last seen in a full-fledged role in Zero (2018), has been in the news as Pathaan has been making and breaking box office records since it was released on January 25. Among those praising the actor after Pathaan's release is Pakistani actor and VJ Anoushey Ashraf, who took to her social media accounts recently and called Shah Rukh 'a universal superstar'. She added she will always be a fan of Shah Rukh. Her comment on Shah Rukh did not go down well with a section of Instagram users in Pakistan, who said that she made the statement only to 'get noticed by Shah Rukh'. Also read: Pakistani actor slams Siddharth Malhotra's Mission Majnu for 'poor research'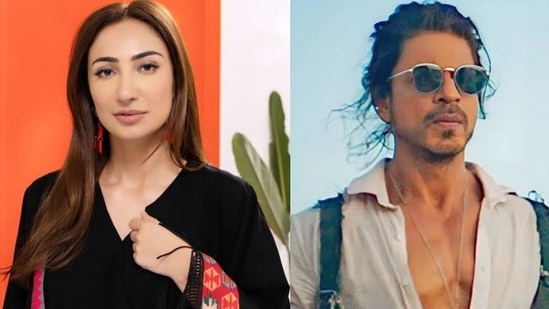 In her recent Instagram post, Anoushey wrote, "As much as people dislike him, as much as Pakistanis feel we should not promote Bollywood, for me SRK is a universal superstar. As artists we believe we connect to people beyond borders (which is an awful man-made concept), the world only knows us as humans and this human (Shah Rukh) has done remarkable stuff and speaks ever so eloquently! Forever a fan (of) Shah Rukh Khan."
Responding to an Instagram post on her comment about Shah Rukh, Anoushey slammed people for 'hating' her for praising the Bollywood actor. She wrote, "Man, I share things on my wall, as my opinions but the people in the comments section here are remarkable…they can't even take an opinion. Like just 'in my eyes' an opinion is lost because they're busy thinking I want to get noticed by him (Shah Rukh). Haha I mean, there are many ways to get noticed. Many many many… than a mere opinion on my own story. Stars have universal love, respect and appeal and so we speak about them. But Pakistanis in general have this hate deep seated in them. Even for their own. They just cannot be nice in general. Everything makes them want to put another down. God knows what satisfaction they get from that but to an outsider it speaks volumes of a hardened, deprived and negative mindset. Good luck hating losers!"
Shah Rukh Khan's Pathaan crossed the ₹200-crore nett mark in India in its first four days after grossing ₹106 crore globally on its opening day. The Siddharth Anand film also stars Deepika Padukone, John Abraham, Dimple Kapadia and Ashutosh Rana. Pathaan is backed by Yash Raj Films.