Rashmika Mandanna on being 'disliked': 'As actors people are going to talk about us, can't expect them to only like you'
Jan 06, 2023 01:36 PM IST
Rashmika Mandanna spoke about people's reaction to her and also listed probable reasons for why some 'dislike' her. The actor has been facing criticism after she said she had not watched Rishab Shetty's Kannada film Kantara after it was released in September last year.
Rashmika Mandanna made her Bollywood debut with Amitabh Bachchan-starrer Goodbye in October last year. The actor has been in news recently after she was criticised by a section of people for not watching Kantara for a long time; the Rishab Shetty-starrer is one of the highest-grossing Kannada films ever, and was released in September last year. Now, in a new interview, Rashmika opened up about how she deals with the 'hate' she gets. Also read: Kiccha Sudeep reacts to Rashmika Mandanna being criticised for not watching Kantara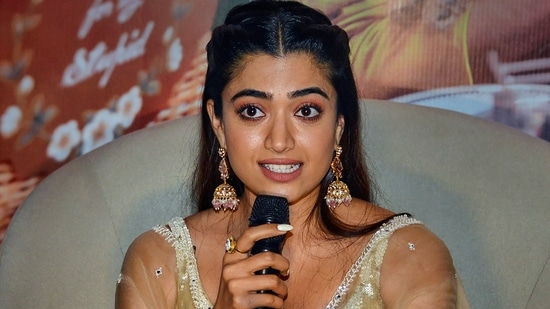 Recently, Kannada actor Kiccha Sudeep had also responded to the criticism that Rashmika was facing ever since she said that she had not watched Kantara; he said that a celebrity's life is about getting 'garlands as well as eggs, tomatoes and stones'. When asked if she had watched Rishab Shetty's Kantara, Rashmika had told media in November that she did not get the time to watch it. In reaction to her comment, some on social media criticised Rashmika and said she had 'forgotten her roots'; Rishab had directed her debut film Kirik Party (2016).
Speaking about people's reaction to her, Rashmika Mandanna told Bollywood Bubble, "I realised that us being actors, we can't expect people to only like us. You're not going to pay everyone's cup of tea. So, there's going to be a lot of hate. There's going to be a lot of love. But people are going to end up talking about you. Yeah! We're public figures. We are talking to the public. We are out there. We are promoting our films. We are doing interviews."
Speaking further about what she thinks could be people's 'reason to dislike' her, Rashmika said, "Maybe just the way I like talk or me doing these hand gestures, some people might not like. Or some people might not like it that I am so expressive through my expressions. And all these reasons can be a reason for them to dislike me. But at the same time there's so much love which I am truly grateful for."
Last year, Rashmika had shared a long note on Instagram about handling negativity. "A couple of things have been troubling me these last few days or weeks or months or maybe even years now and I think it's time I address it. I am only speaking for myself – something I should have done years ago. I have been on the receiving end of a lot of hate ever since I started my career. Quite literally a punching bag for a lot of trolls and negativity out there," she wrote.
Rashmika will soon be seen with Ranbir Kapoor in Animal. The film will mark Ranbir and Rashmika's first onscreen collaboration. The film also stars Bobby Deol and Anil Kapoor, and is directed by Sandeep Reddy Vanga of Kabir Singh fame.