When Priyanka Chopra busted myths about Bollywood, schooled Seth Meyers on his show
Updated on Jul 18, 2021 11:45 AM IST
Priyanka Chopra, who celebrates her birthday on July 18, once busted stereotypes about Bollywood on Seth Meyers' talk show.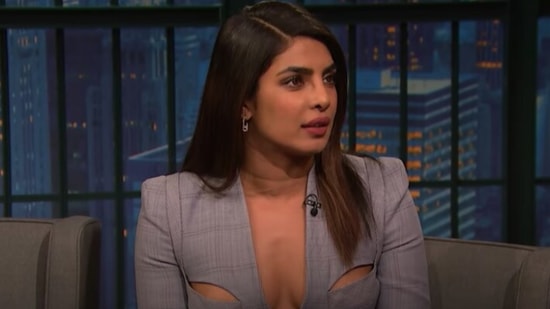 Birthday girl Priyanka Chopra might be working predominantly in Hollywood now, but in a 2018 appearance on Late Night with Seth Meyers, she busted a few misconceptions about Bollywood.
Host Seth Meyers admitted to Priyanka Chopra that for the longest time, he believed that Bollywood was a genre. Priyanka said that this is one of the many stereotypes about India that she is irritated by.
She said, "That's what annoys me so much. I didn't even think I realised that when I was working in Hindi films that Bollywood has been reduced to a genre, when it's not. We have action and drama, it's like Hollywood, but Bollywood's not even a place, Hollywood is a place. At Trader Joe's I saw Bollywood flavoured pop corn. How do put a flavour to an entire industry? What would Hollywood's flavour be?"
She continued, as Seth laughed, "So what is annoying is that it gets reduced to such a stereotype, which it's not. Though music is a very important part of our movies, but they're not all breakout-into-random-synchronised-dancing... Every industry has its own stereotype; every country has its own stereotype."
Also read: Priyanka Chopra slips into a chic swimsuit as she rings in her birthday weekend, see pics
Priyanka, who transitioned from being a beauty queen to one of the top female actors in Bollywood, made inroads in Hollywood with a leading role in the now-cancelled series Quantico. She also appeared as the villain in the Baywatch film. Her last two releases -- We Can Be Heroes and The White Tiger -- debuted on Netflix back-to-back. She has struck a multimillion-dollar first-look deal with Amazon Prime Video, which will allow her to produce content across languages and genres. She will star in the streamer's spy show Citadel, and executive produce a reality series based on the 'sangeet' ceremony in Indian weddings.
Personalise your news feed. Follow trending topics