Koffee With Karan promo: Saif Ali Khan talks about sex life with Kareena Kapoor, makes Sara Ali Khan squirm
Saif Ali Khan left all filters at home as he appeared on yet another episode of Koffee With Karan with his daughter Sara Ali Khan.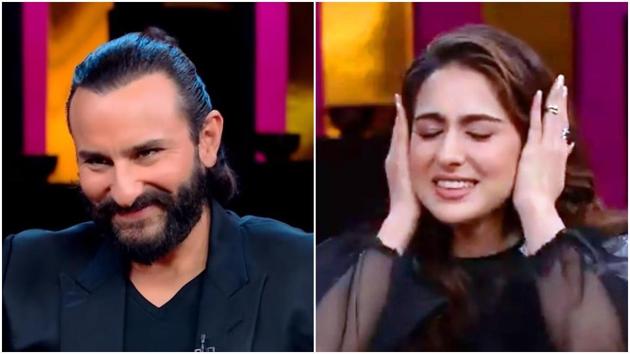 Updated on Nov 12, 2018 11:20 AM IST
Our Koffee salvation might finally be here. After four back-to-back uneventful episodes, the promo for next week's Koffee With Karan seems rather promising. Joining host Karan Johar on his show will be father-daughter duo Saif and Sara Ali Khan.
The promo promises a great many things including a heavy cloud of awkwardness that sets upon the room when Saif begins discussing his bedroom-life with wife Kareena Kapoor. Karan talks about how Kareena has made the gym looks sexy in Bollywood. Saif replies, "And I get a close up look at it in the bedroom before the departure." His embarrassed daughter puts her hands to her ears to avoid listening more about the sex life of her father and stepmother.
"You check her out before she goes?," Karan asks him. "Yes of course, coming and going," Saif replies, making Karan almost spit out his coffee at his cheeky innuendo.
The host and his guests then discuss the three things Saif would ask any prospective boyfriend of Sara. "Political views, drugs," Saif says as Karan interrupts him, "Money would be a nice question to ask. I would ask that." Quick to take his tip, Saif says, "Got cash? Take her." "That sounds so bad!," Sara exclaims at her father's response.
Karan also asks Sara who she would like to marry or date in Bollywood. She says she would like to marry Ranbir Kapoor but date Kartik Aaryan. "Has he got money?" Saif asks her. "You got money, you can take her," he adds as Sara screams, "You have to stop saying that! It's wrong."
More bits from the episode include Sara confessing she is weird as she is the daughter of Saif and Amrita Singh. The two then play the Koffee Game, recounting a bunch of vegetables and figuring out actors with names starting with 'S'. The new episode will premiere on Sunday, November 18.
Follow @htshowbiz for more
Close Story
Personalise your news feed. Follow trending topics