We are actors, not mannequins: Alia Bhatt defends Sonakshi Sinha
Updated on Oct 22, 2014 10:35 AM IST
Alia Bhatt says that while you need the fashion police, it's rude for people to only discuss your weight; also talks about link-ups, and her name being used by malicious portals.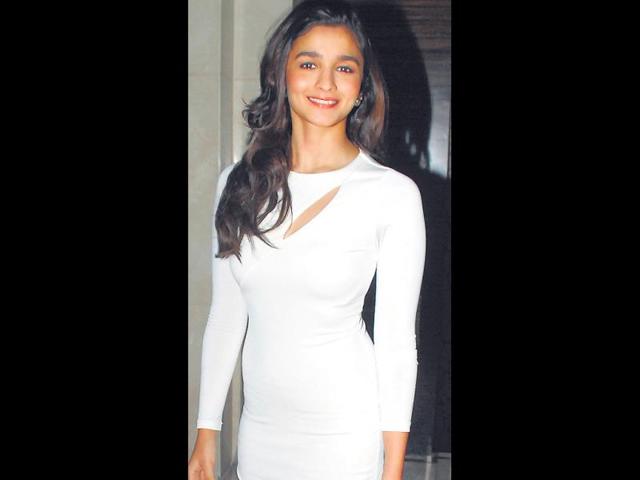 Earlier this year, a video, in which she spoofed her own appearance on Karan Johar's chat show, went viral. Now, it seems, she's topped the list of celebrities whose names are used by malicious websites to lure people. Clearly, the virtual world can't have enough of Alia Bhatt.

Speaking to us from Leeds, UK, where she is shooting for her next, Alia talks about being "popular in a dangerous way", lauds actor Sonakshi Sinha for her recent comments against people who scrutnise her for her weight, and says she's faced the issue herself.

Back home, you're being called the number one 'virus'.
Really? That's not a good thing, no? But it's quite cool. I am popular in a dangerous way. Now, I shouldn't lose my popularity.

We heard you're feeling homesick?
Yes, I even put up a picture of my mom and sister on Instagram. I think I'm homesick due to the cold weather. Plus, I am going to miss my mom's birthday (October 25).

A few days back, Sonakshi Sinha lashed out at critics for who talk about her weight an issue.
I can identify with her because I am a foodie myself. So, my weight fluctuates from time to time. I do work hard to stay fit and look a particular way. But I feel it's rude when people constantly talk about your weight. Everyone has a certain body type. What's more important is that you're comfortable and happy in your skin and you feel healthy, even without being size zero.

But is such scrutiny a bit too much to handle?
I feel we are actors, not mannequins who are there just to display clothes. We should be able to look the way we wish to, without thinking too much. At the same time, I feel we can't live without the fashion police either. Sometimes it's good when I get scrutinised, since that inspires and motivates me.

You haven't been linked to anyone of late.
That's a change.I'm happy that no one is writing about my link-ups, since this isn't what I am about. I'm focusing only on doing good films.

You starred in the hilarious Genius Of The Year video a few months ago. Now, you've shot for one supporting women's empowerment. You seem to be making some strong statements these days…
Iam a very impulsive person. I say what I feel. So when people approach me for something interesting, I impulsively say, 'Yes'. Even during Genius…, people asked me, 'How could you make fun of yourself?' I just thought it was cool and fun. Similarly, I feel very strongly about women's empowerment and I really liked Vikas's (Vikas Bahl has directed the video) idea.

Your father, Mahesh Bhatt, recently said that you have added to his 'ageing stardom'...
He is so sweet. To me, my father is the biggest star in the house. I can't replace him. Now, suddenly, I have become an actor and he feels that I'm getting the attention, which I am sure he is very happy about.

Do you see yourself as a star now?
I don't think I have reached that stage yet. I am not being modest, but honest and realistic here. I have been fortunate to have had four hit films. But I feel I still have a lot to do to reach that stage [of stardom]. The plan is not to be a star. I want to be loved [by the audience] and appreciated.

According to some reports, you are believed to be a threat to Katrina Kaif. Are you aware of this?
How can I be a threat to Katrina? Just look at where she is. People just create reports like these to pit two actresses against each other.
ott:10:ht-entertainment_listing-desktop
Personalise your news feed. Follow trending topics