Avinash Tiwary rejects criticism for playing 'SC character' while being a Brahmin: 'Inclusivity ke naam pe...'
Jan 05, 2023 06:04 PM IST
Actor Avinash Tiwary replied to a Twitter user who objected to his character in Khakee: The Bihar Chapter and stated that 'SC character should be played by SC actor only'. He added that he is for equality of opportunities but not at the expense of his earned opportunity.
Avinash Tiwary has responded to a Twitter user who stated that a 'SC character should be played by SC actor only'. The actor, who plays an elusive criminal, Chandan Mahto, in the Khakee: The Bihar Chapter on Netflix, shared that an actor should be able to portray any kind of role beyond race, cast or religion. However, other users on Twitter tried to expand on the point the original poster was making. (Also read: Avinash Tiwary wants to support outsiders entering industry: I wish there was someone to guide me when I started my journey)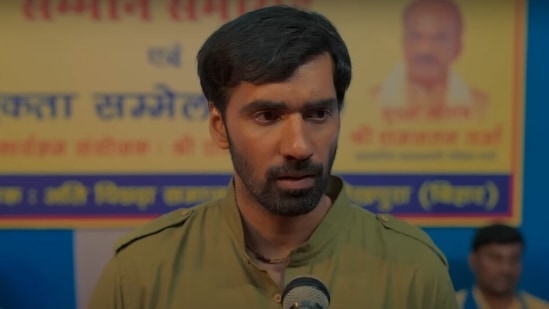 A Twitter user, whose bio states that they are a parody account, wrote, "In Khakee the Bihar chapter, main villain is Chandan mahto, he comes from scheduled caste. But his role was played by Avinash Tiwary a Brahmin. SC character should be played by SC actor only, this injustice must stop in cinema, it is eating opportunities from marginalised castes."
Avinash replied, "Ye inclusivity ke naam pe basic job description bhool jaate hain kya (Do you forget basic job description in the name of inclusivity)? Sir Actor ka kaam hai vibhinn tarah ke kirdaar( Beyond race, caste, religion, class, age, gender) karna (An actor's job includes doing a whole range of characters) . i am all for equality of opportunities but not by giving up my own hard earned opportunity for it." He added, "Unfortunate ki mere kaam mein aapko talent aur skill se jyaada mera last name dikha (It's unfortunate in my work, instead of my talent and skill, you noticed my last name first)...Aagey behtar koshish karoonga (I will try harder in the future)(folded hands emoji)."
One fan commented to his tweets and shared, "A mature response would be to accept that there is unequal representation of caste in the industry and the system needs to be more open to diverse talent. No one questioned your talent. This was about the system that is subconsciously in favour of the Upper castes." While another user defended him and said, "Your acting was class apart.. Let the fake profiles and parody accounts bark." Yet another fan shared, "It's from a parody account. But it's completely understandable why such write-up might piss off a hard-working actor like you."
The original Twitter user also re-tweeted someone who shared his initial point, "So far, I have watched just one episode of 'Khakee' and it is undeniable that @avinashtiw85's performance is brilliant. However, what @niiravmodi is trying to get at — if the account isn't being satirical — is that there is an overrepresentation of a few communities in media."
Khakee: The Bihar Chapter, created by filmmaker Neeraj Pandey, is inspired by the true story of how the Bihar police caught one of its most dangerous criminals. Actor Karan Tacker plays police officer Amit Lodha who makes it his mission to capture Avinash's character despite all the odds against him. The drama series also stars Ashutosh Rana, Ravi Kishan, Anup Soni, Jatin Sarna, Nikita Dutta and Abhimanyu Singh.