Watch | 'If you feed wild, it will feed on you': IFS officer shares video of elephant with warning
Jan 10, 2023 01:57 PM IST
The video shows a group of people inside a van, who attempt to feed an elephant, following which the animal curiously approaches the van for more food, striking panic among the people inside.
An Indian Forest Service officer shared a video on Tuesday, containing a valuable lesson on why it is important to obey the 'law of the jungle'. The two-minute-long video showed an encounter between an elephant and a group of people in a van, who attempted to feed it - an event that could have gone horribly wrong but the people inside were able to rescue themselves in time.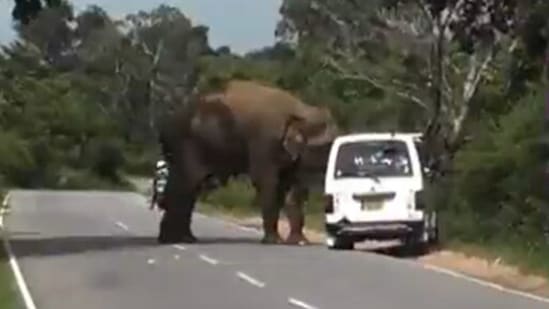 While passing by the road, the group slowed near an elephant and fed it, following which the animal curiously approached the van for more food and started looking inside. Unable to escape the situation, soon the people inside could be heard screaming out of fear as at one point their van was on the verge of overturning.
Also Read: Fishes are 'unnecessarily' fighting over food due to climate change: Study
"If you feed the wild, it will start feeding on you…An elephant did just that. Got its prized catch after a thorough search and walked off. Stop feeding the wild," the IFS officer, Susanta Nanda tweeted, sharing the video. The undated clip further shows that amid shrieks and loud outcries, panic-stricken people escaped from the other side of the van even as the elephant continued its search. As they run leaving the van behind, the mammal is seen searching the vehicle inside-out, then vanishing into the jungle with the food it could find.
Forest officials often advice people to not feed wild animals as it can lead to crowding and competition for food among them and even create unwanted circumstances involving violence and injuries, proving dangerous for the people as well.