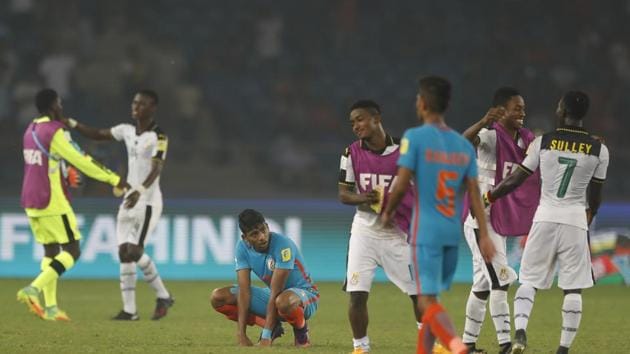 FIFA U-17 World Cup: India football coach admits gap with world is huge
Luis Norton de Matos has called for more international exposure for the Indian football team and admitted that there was a massive gap with the rest of the world after the team suffered a 0-4 loss to Ghana in their last Group A encounter which dumped them out of the FIFA U-17 World Cup tournament.
Hindustan Times, New Delhi | By Shayne Dias
UPDATED ON OCT 12, 2017 11:24 PM IST
Luis Norton de Matos was in a combative mood after India's 4-0 loss to Ghana in their final FIFA U-17 World Cup game, but made it clear that his players gave their all throughout the tournament.
"Our team knew tonight that after 2 hard games at this level it would be harder to play against Ghana, the strongest team of this group. African teams in general are strong at this level. Their players are fast and strong and Ghana showed that tonight as well."
When asked about his defensive tactics going into the game, De Matos rightfully defended his approach by saying India could not match Ghana on the ball.
"We can't look to keep the ball against a team like Ghana, their individual players are too good. For me it's simple: I knew the third game was going to be the hardest. Our players looked tired in the first half itself and it showed on the field. We thus made mistakes and were punished by Ghana. Congratulations to them, they were the better team but I'm very proud of the players," he added.
However, he was quick to show displeasure at two questions asked. The first was about Komal Thatal, who didn't play in either of the last two Group A games.
"I don't talk about individuals. But If you think Komal with his physicality would have fared well against big teams like Ghana and Colombia, you are a very good coach."
The second time was when he was quizzed over whether starting with two strikers would have had any affect on the final scoreline. "Perhaps we would have conceded 7-8 goals," he said with a shrug.
He was quick to point out that his young players need experience at both club and national level. "The boys have made progress but we need to invest in them. They need to play in the I-League. The level between India and the world is huge. Indian Super League teams go to Europe and lose 4-0 to Spanish 4th division teams; that's the reality. These young boys need more experience.
"It's not a question of hope; I know these boys will create something special in the future," he added.
'India didn't come to the party'
Ghana coach Paa Kwesi Fabin was satisfied with his team, even if he did believe that his side could have won the game by a larger margin.
"We could have scored more, but I'm happy with the scoreline," said Fabin in the post-match press conference.
He further added that India weren't quite as competitive as they could have been. "I don't think India posed any threat today. They didn't come to the party like the previous matches, I don't know why."
He did, however, have some good words for India's footballing infrastructure. "I think India is ahead of us in playing fields and infrastructure."
Close