Halle Berry will shock you with her super fit body at 51. Here's how India inspired her
Hollywood's age-defying beauty, Halle Berry, has a svelte and toned figure. Now, as part of her 'Fitness Friday' series on Instagram, the actor is giving us an insider's peak into her headstand skills and her secret to getting those sculpted abs.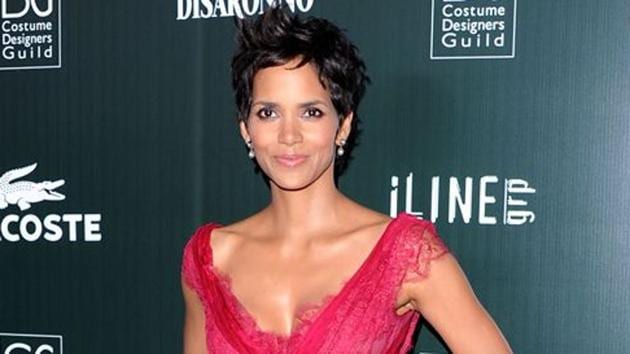 Updated on Apr 09, 2018 02:38 PM IST
Hindustan Times, New Delhi | By HT Correspondent
Halle Berry looks as in shape at 51 as she did almost 20 years ago: Toned, slender, and just generally gorgeous. Whether she's on the red carpet or laying by the poolside, it's apparent the Hollywood actor gives extra attention to her svelte, toned body. And there's a lot that goes into maintaining her toned physique that ensures she doesn't look a day over 30.
With her 'Fitness Friday' series, Halle, with her trainer Peter Lee Thomas's help, has been blessing her 2.6 million followers with her absolutely gorgeous looks, body positivity and openness. She has been killing it on Instagram, giving an insight into what it takes to look that stunning at her age.
+ +
In the latest instalment of Fitness Friday — the first post was on January 12, 2018 — Halle trades in her boxing gloves for meditation: Talk about balance. Introduced to the practice on her 2017 trip to India, she writes that "the experience not only profoundly changed me, but it inspired me to never go a day without some sort of meditation."
Halle's tips for meditating are to find a place that's safe and relaxing, starting off with gentle stretching to relieve stress and focusing on your breathing. She begins her practice by clearing her mind (she even admits this can be hard), then begins to repeat her mantra of the day or simply sits with the thoughts that come to her.
If you're unsure whether or not you can meditate, start with this simple advice from Berry herself: "Time is not the key; the intention is."
+ +
In the post above, she shared exactly why she meditates.
"Meditation keeps me connected to God, Mother Earth, a higher power or whatever you prefer, and reminds me that while we are all on a solo journey, we are never alone!" Halle wrote. So, if you want to get Halle's toned abs, her glowing complexion, and her dedication to fitness, you know where to start.
+ +
The only thing more motivating than Halle's inspirational Instagram captions are the videos of her and her trainer actually doing the workouts. In one of her first posts, Halle's trainer shows us the "plank pull" — a stationary plank position with the additional bonus of grabbing something in front of you.
Halle's exercise and wellness tips and secrets are totally motivating us to whip ourselves into shape, not only because of how descriptive they are, but because of how honest they seem. Scroll for more:
+ + + + + + + + + + + +
Follow @htlifeandstyle for more
Close Story