Argentina win was the trigger: Didier Deschamps after France's FIFA World Cup 2018 triumph
Hindustan Times, Moscow |
Bhargab Sarmah
Jul 16, 2018 09:04 AM IST
Didier Deschamps identified the win over Argentina in the Round of 16 as the 'trigger' for France's World Cup 2018 triumph
Moments after Didier Deschamps entered the press conference room to address reporters after guiding France to their second World Cup title – the first he had won as the captain in 1998 – players of the triumphant national team entered to room and poured drinks over the coach.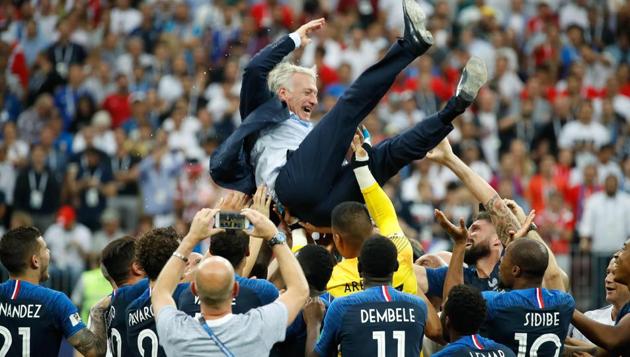 READ | Adaptability helps France beat Croatia to lift FIFA World Cup for the second time
"We are swimming in happiness," Deschamps declared to reporters here at the Luzhniki Stadium after the players left the room.
Asked to sum up his side's campaign in the tournament, Deschamps said, "France are world champions. It means we did things better than others. As you know, we had a very, very young group because 14 of them were on a discovery journey in the World Cup. But the quality was there and that was it.
READ | FIFA World Cup final: Golden Antoine Griezmann delivers on the biggest stage
"My greatest source of pride is that my players managed to have the right source of mind for such a tournament," he said.
Deschamps identified the win over Argentina in the Round of 16 as the 'trigger' for France's World Cup win.
"It was a triggering match because it was Argentina, a great nation with Leo Messi and we managed to turn the match around. It gave a lot of confidence to my players," he told reporters.
READ | Didier Deschamps joins elite club as France beat Croatia to win 2nd World Cup title
"After victory against Argentina, we had enough days to appreciate it and then come back to reality because we could have been defeated by Uruguay five days later," he added.
Man of the match in the final, Antoine Griezmann highlighted the unity among a diverse group of players in the French team.
"We were a really united group, whether the players were on the bench or on the field," he said.
"That's the France we love. There are different origins but we are all united. That's the same in our team. There are players who come from different backgrounds but we play for the same jersey, the same cockerel (a national symbol of France)," he elaborated.
READ | France fans go wild from Paris to Moscow after thrilling FIFA World Cup 2018 win
Croatia coach Zlatko Dalic congratulated France on the win and said he had told his players to 'chin up' after an unprecedented run to the final.
"If somebody had offered us to be runners-up before the tournament started, that would have been fantastic. But the developments, how we played and (after reaching) the final, there is a modicum of sadness," he said.
Dalic said Croatia lacked the kind of luck they had earlier in the tournament in Sunday's final. "What we had in terms of luck over the tournament, we lacked that today, particularly with the first two goals," he lamented, referring to Mario Mandzukic's own goal and a penalty to France that led to their second.