Defending champs Minerva Punjab make it a hat-trick of losses for East Bengal
After a miserable evening at Salt Lake stadium, East Bengal stayed on six from five rounds while Minerva Punjab moved to 11 from seven.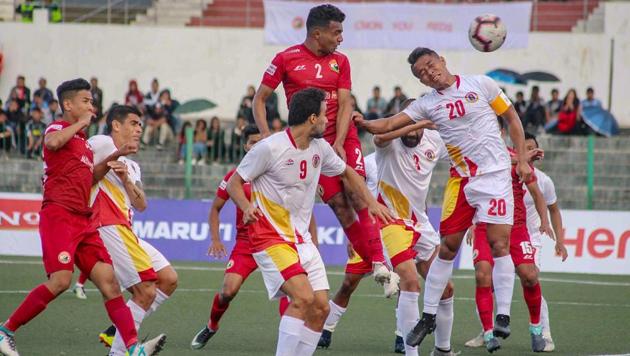 Updated on Dec 04, 2018 11:21 PM IST
East Bengal slumped to their third successive defeat in the I-League, losing 0-1 to Minerva Punjab at home here on Wednesday. That itself should have new Spanish coach Alejandro Menendez feeling the heat as winter hits town.
William Opoku, one of the players retained by the defending champions, scored in the 77th minute exploiting acres of space in the East Bengal backline and goalie Ubaid CK's error in judgment. A Joby Justin header deep in second-half stoppage-time was kneed out by Singh and before that Brandon Vanlalremdika failed to keep a header on target.
After a miserable evening at Salt Lake stadium, East Bengal stayed on six from five rounds while Minerva Punjab moved to 11 from seven.
Given that Minerva Punjab FC haven't hit the ground running, it was appropriate that they would let East Bengal take the game to them. East Bengal, whose campaign too had hit a bump with two successive losses after wins away to NEROCA and Shillong Lajong, were patient all right but lacked the penetration to test the Minerva Punjab backline helmed by sturdy centre-backs, the Ivorian Lancine Toure and Colombian Jorgevian Rodriguez.
East Bengal's all-India midfield, a rarity these days in the two leagues that run simultaneously, too was outmuscled by their rivals where Nigerian Bala Dahir played in front of the back four. Symptomatic of the home team's frustration came around the half-an-hour mark when Yami Longvah played a backpass from near the centre-line.
But East Bengal, whose traditional red-and-gold combination was tucked away in a corner of their milky white shirts, ended the first half with a move that saw the ball travel from left to right but ended with Longvah's delivery thudding into the side-netting. They began the second half briskly but still couldn't force a clear chance barring a long-range drive by Enrique Tirado that packed a lot of power but was too close to goalie Arshdeep Singh.
That was in the 61st minute. By then, Minerva Punjab had rung in the changes. By getting Nigerian Donatus Edafe for Dahir in the 51st and replacing Akash Sangwan with Moinuddin in the 55th, the visiting team showed they had got the measure of their rivals and were willing to gamble for full points. Edafe missed in the 68th minute after Opoku fed him and was somewhat surprisingly taken off. His replacement Makan Chote though played a part in the match-winner by forwarding charge to Moinuddin whose cross from the left looped in front of goal. With Ubaid not leaving his line on time, Opoku didn't have to do much.
Close Story