FC Goa thrash Jamshedpur FC in Super Cup; game sees six red cards
Press Trust of India, Bhubaneswar |
Press Trust of India
Apr 12, 2018 10:18 PM IST
FC Goa will now fight it out with East Bengal on Monday for a place in the Super Cup title clash
Frenchman Hugo Boumous struck twice late into the drama-filled quarterfinal as FC Goa trounced Jamshedpur FC 5-1 to storm into the semifinals of the Hero Super Cup, here today.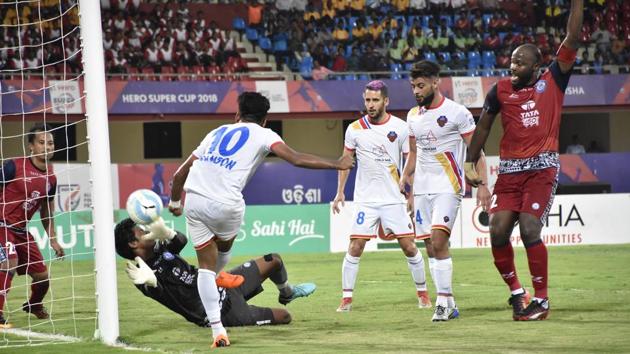 The Goan outfit will now fight it out with Kingfisher East Bengal FC on Monday for a place in the title clash.
Brandon Fernandes (34'), Ferran Corominas (P – 69'), Manvir Singh (77') scored for the winners before Boumous (78'; 89') completed the tally for them while Ashim Biswas scored the lone consolation goal for Jamshedpur FC (90 + 2').
The first half of the game began with FC Goa taking the lead with their consistent attacks. Fernandes drew the first blood in the game when he made a fine run from about 40 yards from the goal, made a fine chip and beat the experienced Subrata Paul.
Jamshedpur FC had a chance to equalise through Belfort but he failed to find the back of the net. Six minutes later in the stoppage time a brilliant pass from Fernandes to his Spanish teammate Ferran Corominas couldn't be converted both due to a poor touch from the Spanish and a good save from Subrata.
The first half came to an end with FC Goa leading by a goal in the game.
READ | Neroca FC ready for fight against Bengaluru FC in Super Cup quarters
The second half began with eight players taking the field from either side, after a brawl that broke between both the teams at the end of the first half.
The referee sent off six players (3 from each side) from the field of play. Subrata Paul, Haitian Kervens Belfort, Anas Edathodika from Jamshedpur FC and Brandon Fernandes, Spanish duo of Bruno Pinheiro & Sergio Marin from FC Goa were sent off on the red card.
Goa was clearly the dominating side in the second half, consistently making it to the Jamshedpur FC box.
FC Goa, who were consistently attacking all throughout couldn't really capitalize on their lead until a reckless tackle by Jamshedpur FC's Brazilian midfielder Emerson Moura on Ferran Coromino led to a penalty to the Goan side.
Ferran (68') made no mistakes in converting the same giving his team a 2-0 lead in the game. Thereafter FC Goa played with ease striking twice in a span of two minutes through Manvir Singh (77') and French Hugo Boumos (78') giving a comfortable lead of 4-0 to his team.
The French midfielder scored again in the 89th minute giving FC Goa a huge 5-0 lead in the game. Jamshedpur FC finally found a consolation through a goal from Ashim Biswas (90 + 2') in the stoppage time.