Indian football team skipper Sunil Chhetri picks his favourite for 2018-19 Premier League title
Indian captain Sunil Chhetri lauded the youngsters for their spirited performances, which led to landmark victories over the past couple of weeks.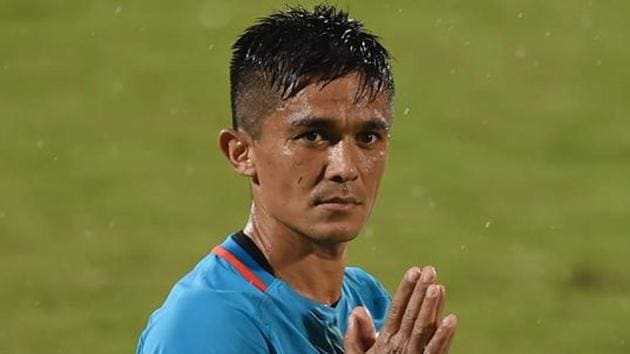 Updated on Aug 10, 2018 11:34 AM IST
It has been a historic week for Indian football as the junior sides registered impressive victories in their respective exposure trips. While the U-16 side had a brilliant outing at the WAFF Championships in Amman as they defeated Iraq to finish the competition with three victories from four matches, the U-20 side defeated heavyweights Argentina in a hard-fought encounter at the COTIF tournament in Spain.
While the results are a huge boost to the young footballers, senior team skipper Sunil Chhetri believes that the biggest positive for the youngsters is that they are getting regular games. In an exclusive interview to Hindustan Times, Chhetri talked about his upcoming AFC Cup matches, the impact of the Argentina win on Indian football and also named his pick for this season's Premier League title.
ALSO READ: Premier League 2018-19 Preview: All you need to know about the new season
Here are the excerpts from the interview:
How do you feel about the junior squads' performances on the exposure trips?
Chhetri: From a result point of view, those were two great full time scores. It's going to do a lot of good to the confidence of the youngsters. The biggest positive though is that they are getting games.
Coming to you, how's the preparation for the new season going?
Chhetri: We're in the middle of our pre-season camp in Spain where the focus is the AFC Cup. We have a massive zonal semi-final at the end of this month and those two games are all we are training for.
The sessions have been intense and the quality of opposition we have games against is tough, which is only good to help us prepare.
What are your expectations from the team ahead of the new season?
Chhetri: Like I said, we are all focused on the AFC Cup game at the moment. We've made success a habit at this club and the aim is to keep bettering our performances.
Personally, what are your goals for the upcoming season?
Chhetri: I don't really set any goals or targets for myself and it seems to be working well for me! I could have the best season personally and it would mean nothing if the team didn't do well.
You signed a contract with Bengaluru FC till 2021. Do you intend to retire at this club?
Chhetri: I haven't thought that far at all to be honest. I'm very happy at Bengaluru FC. It's the most number of seasons I've spent at one club and I've committed to another three seasons here.
ALSO READ: Premier League transfer window - biggest winners and losers
Who do you think will win the Premier League this time and why?
Chhetri: After Leicester did what they did, you cannot really predict a winner. Manchester City were phenomenal and I expect them to retain the title. Chelsea and United haven't done much in the transfer market, so I'm not sure what they will come up with.
Arsenal has got a new manager at the helm and a lot of new faces and it will be interesting to watch how they cope with the transition from Wenger. Liverpool and Spurs gave a very good account of themselves and I don't see them doing anything lesser this season.
Close Story