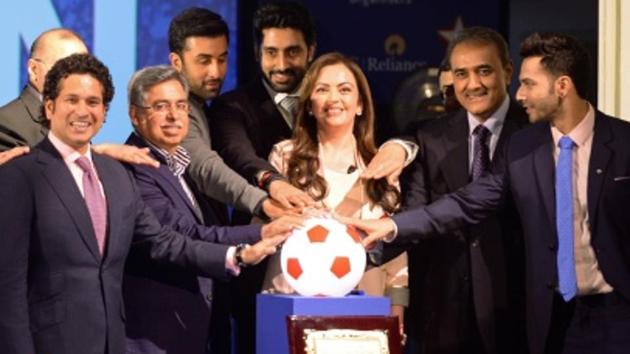 ISL expansion: What IMG-Reliance's move means for AIFF and I-League
Recent events in Indian football indicate that the future of the Indian football leagues remains in the hands of IMG-Reliance, and not the AIFF
By Bhargab Sarmah
UPDATED ON MAY 13, 2017 02:00 AM IST
On Wednesday, former Indian men's football team captain, and current adviser to the All India Football Federation (AIFF), Bhaichung Bhutia, made a startling admission.
Startling, not because it comes as new information, but because none of AIFF top officials have previously admitted to being powerless in deciding the course of the Indian league structure.
In an interview to Herald Goa, Bhaichung said, "It is totally a wrong concept. AIFF has nothing to do with ISL in terms of who is going to play and who is not. It's only in the media that it has been reported about Mohun Bagan and East Bengal's inclusion in ISL. I have been with AIFF for the last two to three years and there is not a single time that the Federation has mentioned that the two teams have to be in the ISL."
READ | Ex-Mohun Bagan captain Shibdas Bhaduri's family to get 1st U17 World Cup ticket
"If the ISL organisers are trying to include more teams then it is their prerogative. AIFF runs the I-League. It is only involved in plans to merge the ISL and I-League, but has no say whether a particular team can play in a particular tournament or not," he added.
Bhaichung's statement bears significance in light of recent events in Indian football.
ISL set to expand
On Thursday, IMG-Reliance's subsidiary, Football Sports Development Limited (FSDL), which runs the Indian Super League (ISL), invited bids for 'one to three' new teams in the tournament.
"Bids are invited from prospective team owners in respect of 10-cities ie, Ahmedabad, Bengaluru, Cuttack, Durgapur, Hyderabad, Jamshedpur, Kolkata, Ranchi, Siliguri and Thiruvananthapuram," a press release by the body stated.
READ | Mohun Bagan set up Federation Cup SF with East Bengal after draw vs Bengaluru FC
While northeastern cities, including Aizawl, have not been included in the list, the inclusion of Durgapur, Siliguri, Kolkata and Bengaluru has raised speculation about the inclusion of the I-League's big three, Bengaluru FC, Mohun Bagan and East Bengal, in ISL.
Bengaluru FC's Chief Technical Officer Mandar Tamhane told Hindustan Times that the club would consider its future course on the basis of how AFC Champions League and AFC Cup slots are allocated to India.
Since the club's route to Asian competitions are currently through the I-League, BFC, Tamhane said, are still a part of it, but would be open to moving to the ISL if it gets a slot in the AFC competitions. The club subsequently picked up bid documents for ISL later in the day.
AIFF "unaware of what's going on"
A member of the AIFF executive committee, meanwhile, has admitted being caught unawares by the move, saying the governing body hadn't been kept in the loop by IMG-R.
"We (AIFF) are not part of this discussion (expansion of ISL). Nothing on these lines were discussed in the last AIFF Executive Committee meet. As such, we are not aware of what's going on, or what's going to happen," he told Hindustan Times.
READ | Mohun Bagan's Sony Norde received 'false cheques' on Man of the Match awards
Speaking on condition of anonymity, the official said since AIFF's jurisdiction does not extend to the ISL, the AIFF is not in a position to have a say on the future course of the tournament.
ISL, it must be noted, is slated to be the top-flight of the Indian league pyramid in the future, although AIFF had earlier this week decided to postpone these plans for now.
The I-League would remain the top division for the next few years, but the ISL, in an expanded format, would run simultaneously along with the top-flight. A final decision on this move is likely to be taken within the next few months.
End of the road for I-League?
Such a move would mean that the ISL clubs, with their stronger financial pull, are likely to keep hold of the country's best players, and in essence, would virtually become India's top-flight.
While it would be a big blow in the short run to I-League clubs, the ISL, due to contractual obligations, is unlikely to be open for promotion and relegation even after it becomes the top flight.
READ | Justice Mukul Mudgal elected head of FIFA Governance Committee
Will AIFF be able to prevent another series of pull-outs if clubs, who have been in the top-flight, are forcefully kept out of it in the future?
Irrespective of the future of the Indian domestic game, one thing, however, has become clearer following the recent events in Indian football.
It is that the future of the Indian football leagues remains in the hands of IMG-Reliance.
Close