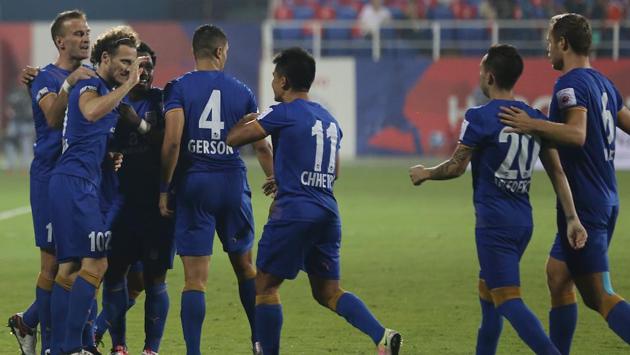 Mumbai City FC punished for poor behaviour in Indian Super League 2016
Mumbai City FC fined for poor conduct during ISL 2016. The All India Football Federation handed out a series of penalties on players who crossed the line in the Indian Super League
UPDATED ON DEC 26, 2016 09:34 PM IST
The All India Football Federation's (AIFF) disciplinary committee on Monday fined Mumbai City FC R5 lakh for "team misconduct" during their ISL semifinal against Atletico de Kolkata (ATK) earlier this month under the AIFF Disciplinary Code Article 53B.
Additionally, the committee found Mumbai player Thiago Dos Santos Cunha guilty of misconduct against opponents, thus suspending him for four matches and fining him R3 lakh under Code Article 49 'Misconduct Against Opponents'.
Facundo Cardozo was also suspended for three games for post-match misconduct under Article 58 'Offensive Behaviour and Fair Play'.
Official Bhushan Tandel was also suspended for five matches and fined R2 lakh for post-match misconduct against match officials under Article 58 'Offensive Behaviour and Fair Play' and Article 60 'Threats'.
The second leg of the semifinal took an ugly turn after the final whistle following an altercation between ATK's Belencoso and Leo Costa of Mumbai.
Costa clipped Belencoso with the latter then having a go at the midfielder with his head, prompting angry reactions from both sides.
Several players got involved in arguments. Thiago Cunha, in a worst of reaction, jumped off the ground and attempted to kick Belencoso.
ATK were also fined Rs 7 lakh earlier in two separate incidents of 'team misconduct'. Belencoso was suspended for two matches.
Close