Paris Saint-Germain escape potential terror attack after bomb found near stadium
Hindustan Times, Mumbai |
HT Correspondent
Oct 03, 2017 05:22 PM IST
Paris Saint-Germain, the leaders of the French Ligue 1, escaped a potential terrorist attack after a bomb was discovered near the Parc des Princes stadium hours before their home game against Bordeaux. Five men, including a wanted Islamist extremist, have been arrested,
A possible terrorist attack was thwarted on Saturday in Paris when an 'improvised explosive device' was discovered near the Parc des Princes stadium, just a few hours before Paris Saint-Germain took on Bordeaux in the French Ligue 1 encounter. Neymar and Kylian Mbappe, the stars of the Paris Saint-Germain team, were also part of the game.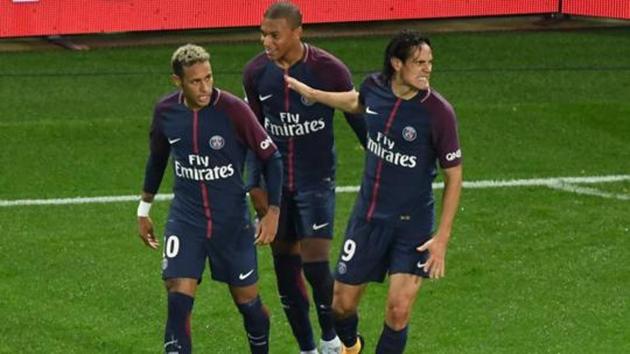 According to a report in The Daily Mail, the device consisted of four gas cylinders soaked in petrol. It was found in the upmarket 16th arrondissement near the Parc des Princes stadium. Five men, including a wanted Islamist extremist, have been arrested. The report stated that this raised suspicion that it was an 'Islamist terrorist bomb plot'.
All four gas cylinders were lined to a mobile phone that could ignite the cylinders so causing an explosion, the report quoted a French official as saying.
The source added that the 'device was soaked in petrol and operational'. It was found when a local resident from the Rue Chanez called police early in the morning at 4:30 AM on Saturday.
The source informed, "Five suspects were arrested at the scene, including a known radical with links to Islamist movements."
France's Interior Minister Gerard Collomb revealed that the Islamist extremist who was arrested might have 'slipped the agents' who were chasing him, with the help of a friend. The man arrested is described being on the 'FSPRT file', according to which the person displays signs of 'terrorist character' due to radicalism.
"When you watch someone, there is always a nebula, a friend ready to help the one who is on the file," Collomb shared with the France Inter radio station.
The Islamic State (ISIS) has aimed football stadiums earlier as well. In November 2015, three suicide bombers attacked the Stade de France stadium ahead of an international friendly between France and Germany. Two of the attackers blew themselves up, killing one, while the third ran away.