Sunil Chhetri wants to end India football career at 2019 AFC Asian Cup
Updated on Mar 31, 2017 02:08 PM IST
It was Sunil Chhetri's hattrick in 2008, the only one by an Indian in the final of an international tournament, that helped India qualify for the AFC Asian Cup in 2011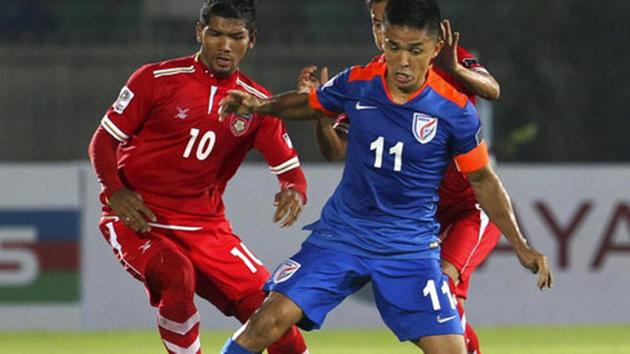 In terms of importance, Sunil Chhetri rated his 90th minute goal against Myanmar at par with the hattrick in the AFC Challenge Cup final in 2008 and the late winner from a free-kick against Bangladesh that avoided a first round elimination from the 2013 SAFF Championships.
"That's because the 2019 Asian Cup finals will probably be the last biggest tournament I play. And on that route, this was an important goal," Chhetri told HT in an interview on Friday.
"I am very proud of the way Jeje (Lalpekhlua) held up the ball and the way Udanta (Singh) delivered," said India's most successful striker with 53 international goals in 93 games.
"Kyrgyz Republic are the best side in our pool and to nurture hopes of qualifying, we had to get three points from Myanmar. If we do well against Kyrgyz Republic at home (June 13), we would take a giant step towards qualification (for the 2019 finals)," said the player from Delhi. The top two teams from the group would qualify.
Tuesday's win in the AFC Asian Cup qualifiers and the victory in the friendly against Cambodia --- Chhetri had scored in that game too --- earlier could also propel India to the top-110 in the FIFA rankings next month, a climb of over 60 places in two years under coach Stephen Constantine. They are now 132.
Here for Saturday's I-League game against Mohun Bagan, Sunil Chhetri said fitness wouldn't be a deterrent to him continuing but "if I play the 2019 finals, there will be very few reasons for me to keep dreaming thereafter."
And a dream it certainly would be should India feature among Asia's elite 24 teams in the UAE. "If someone told me I could play two Asian Cup finals, I wouldn't have believed it," he said.
India have played in the Asian Cup finals in 1964, 1984 and 2011. It was Sunil Chhetri's hattrick in 2008, the only one by an Indian in the final of an international tournament, that helped India qualify in 2011.
Staying at Bengalury FC, marriage
The other thing Sunil Chettri, 32, is willing to put in the hard yards for is helping Bengaluru FC (BFC) in the AFC Cup. "We want to play the AFC Cup every year. That is one habit we don't want to change having tasted what playing the final was like (BFC are the only Indian team to have done that, in 2016)," said Chhetri.
Chhetri said he wants to end his career at BFC "in three to five years." He has bought a house there and it helps that Sonam, his girlfriend whom he will marry this year, likes the city.
"We have been in a long-distance relationship for nearly 13 years. Our parents are meeting on April 16 in Kolkata to fix a date," he said. The wedding will happen in Kolkata or "wherever she wants it" by this October.
Sonam is the daughter of former Mohun Bagan skipper and India defender Subroto Bhattacharya and lives in Kolkata.
Personalise your news feed. Follow trending topics