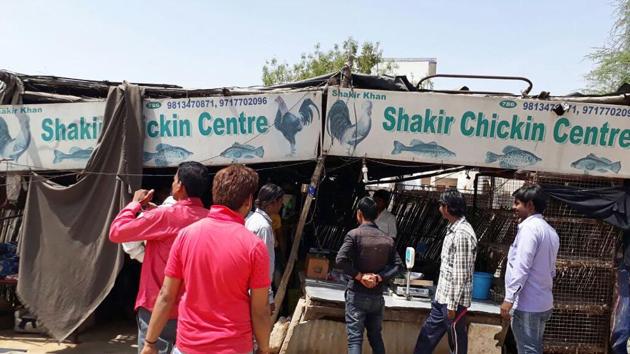 Bharat Bandh forces MCG to delay drive against illegal meat shops
MCG officials could not conduct the drive in absence of a police team. Notices served to 35 shop owners, drive to seal or demolish establishments to take place on Wednesday
PUBLISHED ON APR 02, 2018 11:37 PM IST
Owing to the unavailability of a police force, the Municipal Corporation of Gurugram (MCG) has postponed its major drive to seal and demolish illegal meat shops across the city from Monday to Wednesday.
The police was engaged in quelling Bharat Bandh protesters, who had blocked traffic at multiple points across the city.
MCG officials have reissued notices to 35 illegal meat shops located at Narsinghpur, Mohammadpur Jharsa, Khandsa, Sector 46 and Sector 39 asking them to close their services before Wednesday, or face the sealing or demolition of their property.
According to MCG officials, the drive against 50 shops was expected to commence on Monday evening.
"Since a large force of Gurgaon police was engaged with the Bharat Bandh protests in Gurgaon, they were unavailable for the drive. Hence, the MCG was forced to modify its plan," Ashish Singla, the MCG's medical officer, said.
Singla said that because Tuesday was considered an auspicious day, many meat shops would be closed across the city. Hence, they decided to postpone the drive to Wednesday.
"We have given meat shop owners 48 hours to close their services, failure of which will lead to sealing or demolition of their property. The MCG has received directions from the Haryana chief minister (Manohar Lal Khattar) to act against meat shops operating without licenses. Necessary steps are being initiated," he added.
On Saturday, during the district grievance redressal committee meeting, Khattar took note of the MCG's action against illegal meat shop owners after a complaint was raised about several illegal meat shops operating in the city.
This prompted the chief minister to direct the MCG to put a stop to the issue of meat licenses to traders until further notice from the state government and remove all meat shops functioning without licences.
Instead, they were to be asked to submit fresh licence applications to the state government, who would take a call on whether the establishment needed resettling or was deemed fit for a new licence.
Since October 2017, 129 meat licences have been issued to traders by the MCG, and they have sealed 370 meat shops and 175 roadside meat vendors since January 1.
Close