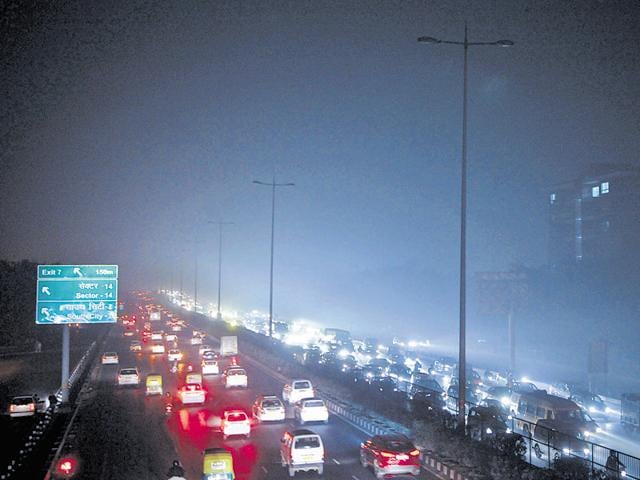 Defunct streetlights make Gurgaon e-way deadly, 29 mishaps in a month
Power supply to around 15% of the streetlights on the 27-km speedway has been disconnected following miscommunication between the expressway operator and the state discom
UPDATED ON DEC 24, 2015 07:05 PM IST
Driving on the Delhi-Gurgaon Expressway has turned dangerous of late as streetlights between Rao Tula Ram Marg and the Kherki Daula toll plaza have not been functional for the last seven months.
Twenty-nine accidents have taken place on the expressway in November alone due to poor lighting, traffic police records say.
Power supply to around 15% of the streetlights on the 27-km speedway — there are 7,800 streetlights — has been disconnected following miscommunication between the expressway operator and the state discom.
Streetlights between Hero Honda Chowk and Kherki Daula, Rajiv Chowk and Signature Tower, and areas near Sirhaul and the Kherki Daula toll plaza not working.
Millennium City Expressway Private Limited (MCEPL), the expressway operator, has blamed the discom for the situation.
"The state-run Dakshin Haryana Bijli Vitran Nigam (DHBVN) has failed to supply power. We are trying to solve the issue by December 29. We are also trying to ensure that the entire expressway is illuminated, for which we will use more generator sets," S Raghuraman, CEO of MCEPL, said.
Currently, majority of the streetlights on the expressway run on 17 diesel generators, which has been proving to be expensive for the operator.
"We have repeatedly requested the discom to provide power connections. We have already paid `21 lakh for electricity and out of 12 applied connections, we have received only nine so far. We are still awaiting approval for three connections," Raghuraman said.
Despite using diesel generators to power the streetlights, several stretches of the expressway continue to be dark as the generators are not efficient to run for long hours, the official said.
To this, officials of the discom said they were willing to help the operator, but maintained that they are not aware of the reality.
"The company has to first inform us about the areas that do not have get power connections. We will try to fix it as soon as possible," Sanjeev Chopra, senior executive of DHBVN, said.
Meanwhile, with an average of 2.5 lakh vehicles plying on the expressway every day, poor visibility during the winter has added to commuters' troubles.
Last month, four accidents were reported near Kherki Daula, eight near Narshighpur, two at Jharsha bus stand, three at Hero Honda Chowk, eight at Panchgaon Chowk and four at Nabrangpur Chowk, the traffic police said.
Commuters also said it is difficult to cross at junctions after sunset. "Visibility during the winter is unavoidable. But the issue of poor lighting at night these days needs to addressed immediately," Shilpa Jain, a commuter, said.
Close