Gurgaon girl helps owner find dog, but refuses Rs 2 lakh cash reward
The dog's owner, Rick Green, said he will give the cash reward to an animal charity if the girl refuses to take it. Rexy had gone missing from a shopping centre in Sector 49 on Sunday.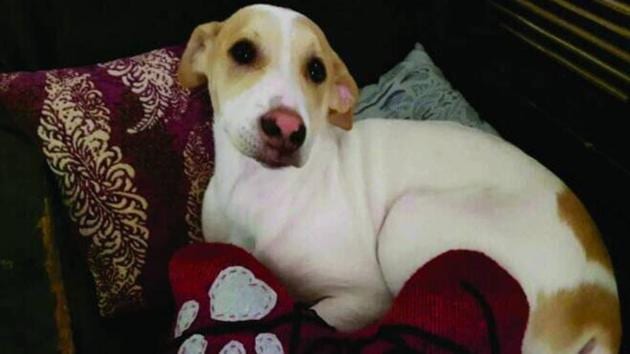 Updated on May 09, 2017 11:41 PM IST
For Rexy's parents, no amount of money or effort was too much to find him after he went missing from a shopping centre in Sector 49 on Sunday. So much so that they promptly announced a reward of Rs 2 lakh to anyone who could bring back their beloved pooch.
Venus Green and Rick Green, an Australian couple staying in Ireo Uptown in Sector 66 since January, put up posters of Rexy in various parts of the city on Monday and even posted it on social media, announcing that whoever helps them find their pet will get a cash reward of ₹2 lakh.
They received a number of calls from various parts of the city with "information" about their Rexy, an Indian breed with a white coat and brown spots, but nothing materialised from them.
Finally, on Tuesday afternoon, Green got his dog back after receiving a call from the girl who lives in Sispal Vihar in Sector 49.
An elated Green was ready to offer Rexy's rescuer the promised reward of ₹2 lakh, but the girl's mother would have none of it. Green is now trying to convince the mother to accept his generous gift.
"My dog was out in the streets for the past two-and-a-half days. The girl rang me up to say she had spotted Rexy near the parking area of her society. She said she spotted my pet while walking her dog," Green said.
He, however, said the girl's mother, Shelly, said she will not accept the cash reward.
"We will go to see the girl on Wednesday and try to convince her mother to accept the reward. However, if she refuses to take the money, I will donate the amount to an animal charity," Venus said, adding that it was the best day of her life to see Rexy again.
The couple adopted the dog in April this year from a dog shelter located in Select Citywalk, Saket.
Rick works in an American company as a general manager, while Venus is a fashion designer. Though the couple already has a dog, Victoria, Venus wanted to adopt a dog from the streets.
One day, she saw an advertisement on TV regarding adoption of dogs. Venus found Rexy at a booth in Select Citywalk, Saket.
"Rexy is exhausted as it was without water and food on the streets. We are emotionally attached to the dog," said Venus.
"People were out on the streets to find Rexy and we were touched by their gesture. We were getting updates from various people who were out looking for our dog," she said.
Last week, there were reports of pet dogs going missing in the city and allegedly being killed and eaten. The reports have made the owners worried about their pets.
Close Story
Personalise your news feed. Follow trending topics