Gurgaon: Bhondsi jail launches bid to help inmates turn musicians
The jail authorities hope that the musical talent hunt will give the inmates an opportunity to reform and make an honest living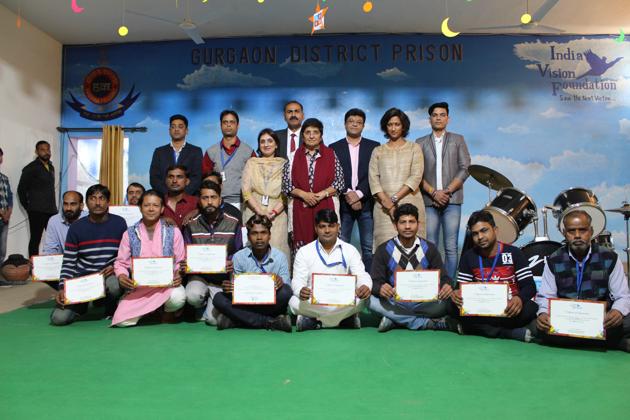 Updated on Feb 18, 2018 04:12 PM IST
To provide an alternate means of livelihood by allowing a free expression of creativity and talent behind bars, the authorities at Bhondsi jail are now providing opportunities to inmates in the field of music. A talent hunt was launched by Dr. Kiran Bedi, the Lieutenant Governor of Puducherry, on Saturday and she was effusive in her praise of the novel initiative.
"This project is initiated to not only promote the inmates' talent, but also to upskill and groom them in various creative pursuits, including music. We want to give them a platform to showcase their talent and make sure they reach new heights. We will also enable them to open training schools to groom and harness musical talents on release," Monica Dhawan, director, Indian Vision Foundation, an NGO associated with the project, said.
The project started with the inauguration of 'Dhun' , a 20x20 feet room designed specially to provide professional music training. Once the project starts in Bhondsi prison, it will be replicated in Sonepat, Rohtak, Bhiwani and Jind prisons as well.
The project started with the idea of not only building a positive atmosphere on the jail premises, but also help inmates with career options in music. Of the 2,178 inmates, only 100 managed to clear various rounds of auditions. Of these, 20 have been selected for a professional one-year training.
A production and television house, in collaboration with the India Vision Foundation, is organising the one-year talent hunt. The inmates will have access to various instruments and teachers for pursuing professional training. There will be guitar, harmonium, tabla, and keyboards for inmates, with teachers helping them polish their skills. The objective is to provide them with a chance to get a source of livelihood.
The new room constructed for the training of selected inmates has a new celling, special lights, wall decor and musical instruments. Two instructors will be assigned to train the inmates. The inmates will undergo a rigorous training, spanning three hours, six days a week.
Read I Gang fight in Bhondsi jail, three officials among six injured; 22 mobile phones recovered
Jai Kishan Chillar, the superintendent of Bhondsi Jail, said, "We are hopeful that this project will help reform our inmates and inspire them to take up creative pursuits. It will also help them shake off the dark memories of crimes that they committed and find solace and peace of mind in music."
One of the highlights of the project is 'Dhun' the music room, which will be conceptualised and designed by a television channel of the same name.
"I did not know I could sing so well as to be selected for the training. I enjoyed the auditions and eagerly waiting for the project to start soon," Suraj, a 19-year-old inmate of Bhondsi jail, said.
The authorities are aiming to bring a change to the lives of inmates and help them get over their crimes.
"Guitar is an instrument I love. If I can master it then it will be a pleasure to teach playing guitar to others. I will also look to make a living out of it," Dinesh, a 40-year-old who is lodged in the prison in connection with a murder case, said.
Close Story