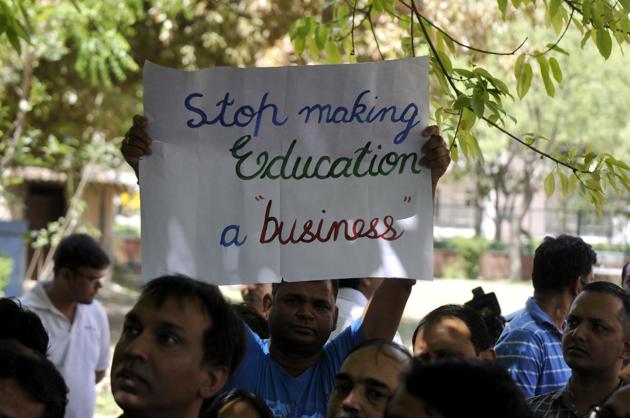 Gurgaon: Court asks Haryana to form a panel to decide on fee hike by schools
PUBLISHED ON DEC 18, 2017 11:19 PM IST
Hearing two writ petitions in connection with the matter of fee hike by schools, one by the Delhi Public School Ghaziabad (DPSG) school parents association, the Punjab and Haryana high court on Monday, ordered additional chief secretary (Education), Haryana to constitute a committee on or before December 31, to draft a report in the matter.
The court said the committee should furnish its report on or before February 28, 2018.
The parents will, however, have to clear the arrears which are due from 2014-15 onwards on or before February 28, 2018, the court said.
The schools shall file undertakings (by the head of the body which governs them) that in case the committee, to be appointed, determines that any fee which has been obtained by them was excessive and unjustified, they would be liable to refund the excess money which they have collected and would have no objection if the property of the institution has to be sold for that purpose.
This order has come as a setback for parents who said they will not pay the fee and will protest against the order.
"Our plan of action is confidential as of now, but it's for sure that we are not going to pay the hike in fee. We are not in a capacity to pay the fee and the government has to intervene in the matter now. With due respect to the court, the order has hurt parents' sentiments," said DK Mishra, a parent.
"It seems parents have to beg or take a loan from the bank to fund children's education. Parents had chosen ChiranJiv Bharati School (previous name of DPSG) in their best capacity as per their income but such a fee hike by DPSG is unjustified. What law or committee will decide is sub-judice but where will a common man go for their kid's education?" he said.
The court order further said, it would be appropriate if the ACS, constitutes a committee which would probe the issue of fee being demanded by the respondent schools, till such time as the government puts into place an amended rule as has been submitted before the court.
Until the time the committee decides the issue of justification, the parents will pay the fee demanded by the schools.
Close