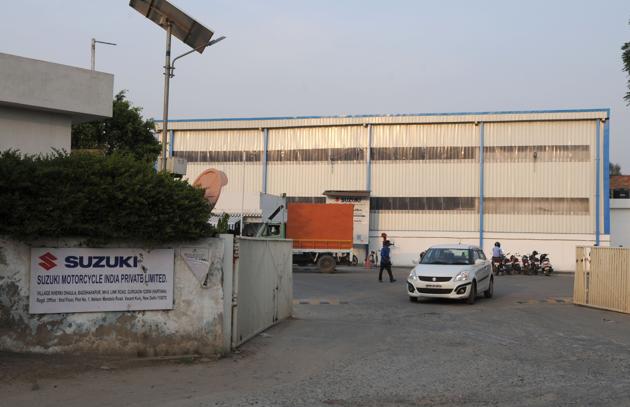 Gurgaon: Fire breaks out at Suzuki plant at Kherki Daula, two workers injured
No major damage or casualties were reported as the workers at the Kherki Daula factory stopped the fire from spreading to a nearby paint shop which was stuffed with highly inflammable materials
UPDATED ON MAY 06, 2017 10:47 PM IST
Two workers were injured, one critically, after a fire broke out at a Suzuki motorcycle manufacturing unit at Kherki Daula in the wee hours of Saturday.
However, there were no major casualties as the workers ensured that the fire did not spread from the fuel tank unit to a nearby paint shop where paint and other highly flammable materials are stored.
While fire department officials were not aware of the incident as there were no distress calls made, labour officials rushed to the spot to take stock as the workers demanded that the management ensure adequate fire safety measures at the unit.
​​The two workers who sustained burn injuries were identified as Baljeet​ (28), a resident of Bhiwani,​ and Anil​ Kumar, (30), resident of Sonipat​. While the former suffered 40% burns, the latter sustained 25% burn injuries.
Baljeet suffered burn injuries to his stomach, legs and hands. He was initially rushed to the Medanta hospital, but was later referred to Safdarjung hospital as his condition turned critical.
​Anil Kumar was admitted to Mayom hospital in Gurgaon. ​
ASI Mohd Sharif, the investigating officer at the Kherki Daula police station, confirmed the incident at the motorcycle unit on Darbaripur Road. "The two victims are yet to regain consciousness. We are waiting to record their statement. Once it is clear what happened at the plant, a case will be registered. I visited the spot after the incident. It seems the fire was caused by a cylinder leak," Sharif said.
Read I School bus with 35 students on board catches fire near HUDA city centre Metro station in Gurgaon
Eyewitnesses said the fire broke out around 6.30 am when the morning shift begins.
"A nozzle of the gas cylinder was blocked and there must have been a large buildup inside. In the morning, the nozzle suddenly leaked a large amount of gas, causing the fire to spread to a 10-15 metre area," Yashpal Rana, president, Hind Mazdoor Sabha Gurgaon, which has an elected union at the plant, said.
​Balmukand Jhar, a trade union ​leader of the plant​ said the fire was contained by the workers ​​and fire engines were not called for. ​"There is need to conduct a safety audit to ensure safety of workers. The labour officials have assured this", he said.​
Close