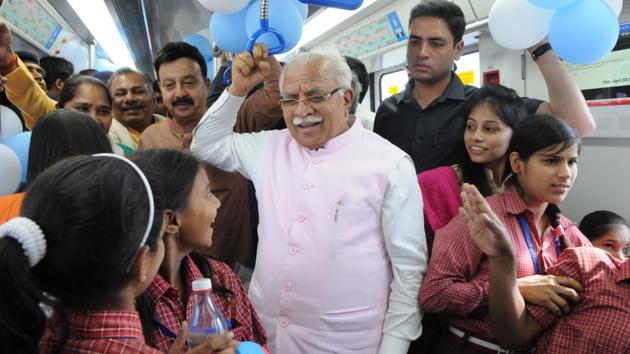 Gurgaon Rapid Metro commuter says 'poor kids denied entry', wants CCTVs scanned
A Rapid Metro spokesperson said on Thursday that children were not allowed inside the station because they did not have sufficient money to buy tickets.
UPDATED ON MAY 04, 2017 03:30 PM IST
A New Delhi-based commuter Shivanya Pandey, who took to social media over denial of entry to six "shabbily dressed" kids in a rapid metro station, has demanded checking of CCTV camera footage from the station. This came after the Rapid Metro officials denied the accusation saying that the kids were not allowed in the metro as they did not have money to buy tickets and not because they were "shabbily dressed".
Pandey had posted about the incident on her Facebook account on May 1 after which she wrote to the National Commission for Protection of Child Rights. Union women and child development minister Maneka Gandhi on Tuesday tweeted a screen shot of Pandey's Facebook post and wrote to DMRC officials for an inquiry.
According to Pandey's post, four to six children between the age group, between 3 to 8 years, were denied entry into Rapid Metro's Indusind Bank Cybercity station "just because they were dressed shabbily and sweating even though they were paying fares still guards denied their entry". Rapid Metro fares are from Rs 20 to Rs 35, however, anyone up to 90 centimetres of height or below is allowed to ride free of cost.
On Thursday, a Rapid Metro spokesperson said, "The criteria for travel in Metro system, as per guidelines laid down by Metro Act, is for commuters to be able to furnish requisite fare either by token or valid travel card as well as comply with security guidelines. In this instance, the criteria was not met. This is to reiterate, that Rapid metro does not discriminate any citizen and our teams are trained to treat all commuters with respect and dignity."
Meanwhile, Pandey claimed that the eldest child was carrying Rs 50 in hand to purchase the ticket. "This is getting ugly now. So Indusind Bank Cybercity Metro official accepted denying entry to the kids but there is a twist. According to them, kids didn't have money to buy tickets, however, if CCTV footage can be seen, it will be clearly visible that the eldest one showing Rs 50 in hand stating he has money to buy tickets. Kids were heading towards ticket counter but the guard came and didn't let them buy tickets, even though the eldest kid bragged of having money. They were not even allowed to reach till ticket counter by guards and other officials which should be visible clearly in CCTV as a proof," Pandey posted on her Facebook account on Thursday.
After the incident, she also emailed to the National Commission for Protection of Child Rights urging the body to take action against in the matter. "I just talked to concerned person in National Commission for Protection of Child Rights and explained things well and she (official) ensured that there will be sensitisation for sure and directions will be given to avoid such things in future," she posted on Thursday.
Referring to the incident, Maneka Gandhi also wrote on her Facebook account, "Widespread sensitization is required to curb incidents of discrimination against poor children. A Facebook Post stated that few poor children were not allowed to board a Metro Train even though they had tickets. I've written to Shri Mangu Singh, MD, Delhi Metro Rail Corp Lt., to look into the matter and ensure that such incidents are not repeated."
Haryana chief minister Manohar Lal Khattar inaugurated the second phase of Rapid Metro on May 2 and travelled with a group of 30 underprivileged kids.
Close