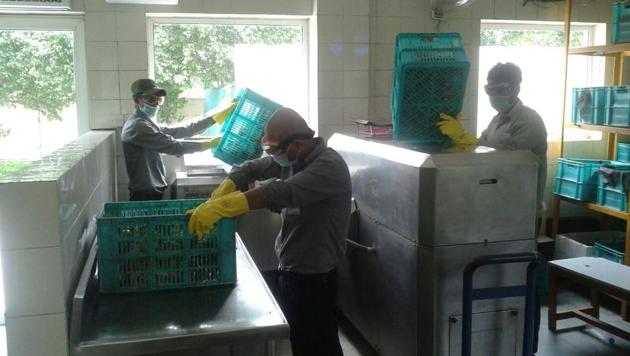 Gurgaon societies compost waste at home, but environmentalists critical of civic body's approach
Upscale societies in Gurgaon segregate their waste and compost the biodegradable garbage in their own waste plants nearby
Hindustan Times | By Kartik Kumar and Leena Dhankhar
, Gurgaon
UPDATED ON JUL 03, 2017 07:47 PM IST
In 2010, Gurgaon got a waste treatment plant at Bandhwari that was meant to last for 30 years, but its life was cut short by a fire in 2013, which rendered it defunct. However, around 1,000 tonnes of waste is still dumped at the plant daily. The waste remains untreated and unsegregated.
In the last four years, an estimated six million tonnes of waste heaped there untreated has resulted in leachate polluting the groundwater consumed by residents of Gurgaon, Faridabad and South Delhi.
Seeing the urgent need to reduce the burden on the plant, the Municipal Corporation of Gurugram (MCG), with the assistance of residents' welfare associations (RWA) in Gurgaon, decided to install solid waste compost plants at some residential societies to ensure waste segregation at the community level.
In upscale residential areas such as Nirvana Country, Garden Estate, Silver Oaks apartments, DLF Summit, Aralias, Magnolias, Vaastu Apartments, Richmond Park and Regency Park II, waste segregation was started at the household level. Residents dump waste in separate bags for biodegradable and non-biodegradable waste. Garbage pickers then take the bags to a solid waste compost plant located near the respective societies. Here, biodegradable waste is converted to manure while non-biodegradable waste is further sorted into waste that can be recycled. The remaining waste is sent to the Bandhwari plant.
Among such compost plants, the one at Garden Estate was established in January 2016 and the one at Magnolias was established in October 2016. Garden Estate, a residential complex in Sector 24, has over 1,800 residents and generates around 225 kg of segregated kitchen waste daily.
Since its establishment, residents claim to have utilised 120 tonnes of waste of which 70% has been used for horticulture purposes and 13 tonnes for manure.
Similarly, at Magnolias, an upscale condominium located on Golf Course Road in DLF 5, waste generated by over 2,500 residents is collected.
According to DLF officials, the plant collects over 450-900 kg waste daily and generates a daily average of around 350 kg of organic waste.
For MCG officials, the system has reduced the burden on the Bandhwari plant and given them time to conceptualise ways to restart its functioning.
"The MCG will soon restart the plant (Bandhwari) in a waste-to-energy format, which will effectively use waste to manufacture electricity," said SS Rohilla, spokesperson, MCG.
He added, "It is important to highlight the contribution of RWAs and residents in implementing and following protocols for utilising solid waste compost plants in the interim. The system has ensured that waste management at community level ensures that wet or recycled waste can be segregated. This, alongwith the upcoming construction and demolition plant, will minimise the burden on the Bandhwari waste plant."
For residents, the initiative has been vital in ensuring they too are engaged in processing waste efficiently.
"Our responsibility as residents should be to help create more wealth out of the waste we generate by insisting on segregating waste in our individual apartments and minimise waste diverted to the landfill (Bandhwari). In our locality, wet waste is converted to compost that residents can take for free to use in their homes. Overall, I have been very impressed with this processing system," said Upasana Kapoor, a Magnolias resident.
Environmentalists call for setting up proper guidelines
However, city-based experts and activists who are part of various campaigns to develop and implement sustainable solutions in Gurgaon were critical of the Municipal Corporation of Gurugram over the functioning of compost plants.
They have called for setting up guidelines that will serve as a reference point for operations.
Experts are of the view that a paradigm shift is required, from waste disposal to resource management, for optimising the benefits of compost plants in implementing and overlooking waste segregation at a household level. This would cut transportation cost, carbon emission and reduce the burden on landfills besides benefitting residents with valuable organic fertilisers for parks, gardens and even sale of the surplus.
"Solid Waste Management Rules 2016 is yet to be implemented by the MCG. Under their contract system, the majority of the work is outsourced and results in a highly fragmented and uncoordinated approach to waste management," Ruchika Sethi, a city-based environmentalist who is running a campaign called 'Why Waste Your Waste', said.
"Hence, at many compost plants outside upscale residential areas, wet waste and dry waste are mixed, open dumping of waste is carried out and there is no representative from MCG to supervise the day-to-day functioning of these plants," she added.
Similarly, Keshav Jain, who spearheaded the process of setting up a waste compost plant at Garden Estate, also advocated the formulation of a set of guidelines.
"The main stumbling block is the lack of a law mandating segregation at source, which has been a long-standing demand of waste experts and concerned citizens of the city," Jain said.
"In addition, the 'polluter pays' principle should also be applicable to all citizens and not just limited to private companies. It is important to realise that environmental practices such as solid waste compost plants are erected for returning the nutrients to the soil instead of discarding them in plastic bags and sent to landfills or burnt in incinerators like the waste to energy plant," he added.
Close