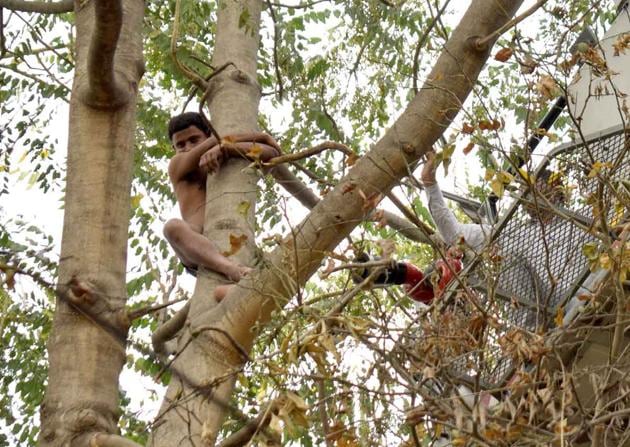 Gurugram: High drama in Sector 15 as man perches himself on tree, rescued by fire fighters
The man had worked as a domestic help in the area, but left the place six months ago
UPDATED ON APR 07, 2018 03:52 PM IST
There was high drama in Sector 15 on Friday morning after a mentally challenged man, clad in an underwear, climbed on a tree and refused to come down despite efforts by local residents and the police.
Finally, a fire department team from Bhim Nagar station brought down the 19-year old man, identified as Deepu alias Pappu, by using a special hydraulic crane that was brought from Sector 29 fire station. The entire exercise lasted around two-and-a-half hours during which the police, locals and fire teams had to make strenuous efforts to ensure that the man did not jump from the tree or fall down from more than 60 feet.
Pankaj Prashar, fire officer, Bhim Nagar said that a three-member team boarded the hydraulic crane and managed to get hold of the man with great difficulty as he clung on to the tree trunk. "It was difficult to get a hold on him as he was only clad in an underwear. He was brought down and handed over to the police," Prashar said.
As the tree on which Deepu perched himself was surrounded by smaller trees and electric wires, the fire department team had to chop many large branches to ensure that the hydraulic crane could be operated in the area. Large number of locals, including the councillor Ashwani Sharma, also reached the spot and tried to reason with the youth to climb down. However, whenever the rescue team reached near him, he shifted his location and clung to the tree.
Read I Gurgaon: Injured ruddy shelduck rescued from Najafgarh Lake
"The Semal (Bombax Ceiba) tree is not known for being strong and the branches break even under minimal weight. We were afraid that he might fall down but he was rescued on time by the fire department officials," Sharma said.
The fire department pressed three emergency vehicles into service and a team of 22 officials launched a rescue operation after being alerted by the police control room.
Locals said that Deepu had worked in the area as a domestic help but left the place six months ago and was not seen thereafter.
Sub inspector Madan Kumar, who was on the spot, said that the victim appeared depressed. "We are trying to find the contact number of his relatives so that they can be informed about the matter," he said.
Close