Man blows up ATM, flees with Rs 3 lakh in Haryana's Nuh
Masked robber acted alone, planted explosive as guard slept in the kiosk.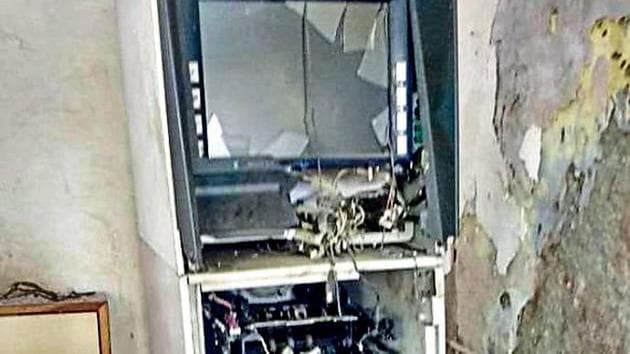 Updated on Sep 19, 2018 08:08 AM IST
Hindustan Times, Gurugram | By Pavneet Singh Chadha
, Gurugram
A masked man allegedly blew up an automated teller machine (ATM) of a public sector bank in Nagina area of Nuh district, over 73 kilometres from Gurugram, and decamped with Rs 2.72 lakh cash early on Tuesday morning.
Police said the machine had over Rs 21 lakh in cash, but since the robber panicked after the explosion, he gathered whatever he could before fleeing.
The incident took place near Badkali Chowk at 3.23am, when the unidentified man entered the ATM with his face covered, Ferozepur Jhirka deputy superintendent of police (DSP) Brahm Singh said.
"A security guard was sleeping inside the ATM kiosk when the robber entered. He sprayed a chemical on the CCTV camera and fit an explosive near the machine. When the sleeping guard woke up, the robber threatened the guard to leave the kiosk. When the guard refused, the robber manhandled him and pushed him outside the kiosk," Singh said, adding that the guard, after raising an alarm, ran to the police station and reported the incident around 5am.
The man planted the explosive and exited the kiosk. The blast was so powerful that the glass door was smashed.
"The robber went in to locate a bag he had dropped accidentally in the kiosk. He grabbed whatever cash he could lay his hands on. He seem to have panicked after the explosion and sprayed the CCTV camera a second time before fleeing. He took notes of denomination Rs 100 and Rs 200," said the investigating official requesting anonymity as he is not authorised to speak to the media.
Police said the accused used gun powder for the blast. A forensic team collected samples from the site and sent them to a laboratory for examination.
"Preliminary probe has revealed that the robber was alone. A counting of notes confirmed that over Rs 19 lakh remained in the kiosk, while the rest was stolen. Some notes were stuck in the cash tray," the investigating police officer said, adding that it was the first case of its kind he had seen in his 20 years of service.
A case was registered against the unidentified accused under sections 392 (robbery), 436 (mischief by fire or explosive substance with intent to destroy house, etc) of the Indian Penal Code and relevant sections of the Explosives Act at Nagina police station, Nuh, police said.
In the past two years, most cases of ATM thefts in the state have been reported from semi-urban and rural areas where security is lax.
Close Story