Padmaavat protest: Case of vandalism filed for attack on Sohna road mall
Raheja Mall and Celebration Mall, where the movie will be released on Thursday, will be provided round-the-clock security. Police trying to get the CCTV footage from nearby areas to identify the vehicles used by the miscreants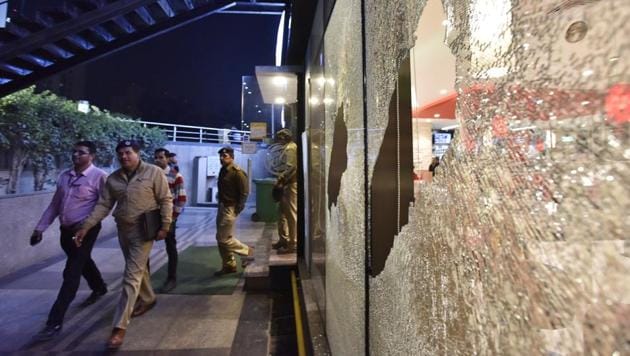 Updated on Jan 23, 2018 11:05 PM IST
A day after some unidentified men vandalised a mall on Sohna Road and blocked the highway near Sector 37, allegedly protesting against the screening of the Bollywood movie Padmaavat, a case has been registered into the incident at the Sadar police station.
Investigation is being conducted by the Gurgaon police to identify the men involved in the incident. A case was filed after receiving a complaint from the management of Raheja Mall on Sohna Road.
A case has been registered under sections 148 (rioting, armed with deadly weapon), 149 (every member of unlawful assembly guilty of offence committed in prosecution of common object), 285 (negligent conduct with respect to fire or combustible matter), and 427 (mischief causing damage to the amount of ₹50) of the Indian Penal Code.
"We are investigating both the incidents that happened in the city on Monday. We are trying to get the CCTV footage from nearby areas to identify the vehicles used by the miscreants," said inspector Vijay Kumar, station house officer of the Sadar police station, Gurgaon.
He also said that to avoid any untoward incident, two malls on Sohna Road — Raheja Mall and Celebration Mall — where the movie will be released on Thursday, will be provided round-the-clock security.
This decision was taken after a group of about 15 men with lathis in hands and covered faces reached Raheja Mall around 7.30pm on Monday and created a ruckus. They damaged four LCD TVs that were put up at the box office counter of the multiplex.
The Rajasthan-based Rajput Karni Sena activists have been protesting against the movie and had threatened violence if the movie is released. They held a bike rally in Gurgaon and burnt the effigy of Sanjay Leela Bhansali, the movie's director.
The Sena representatives have, however, distanced them from the Monday incident. Kushal Pal Singh, vice-president of Sena in Haryana, said the group has no role in the incidents. "We are peacefully protesting against the release of the the movie and no member of the group has resorted to violence," he said.
Close Story