Sultanpur National Park fails to attract birds in breeding season
Jul 28, 2016 04:02 PM IST
The monsoon migratory birds did arrive in the park and even created nests on trees, but didn't lay eggs.
Even though monsoon birds have arrived at Sultanpur National park in April, they are not breeding at the park, a fact that has left the park authorities perplexed. Soon after building their nests, the birds have abandoned them.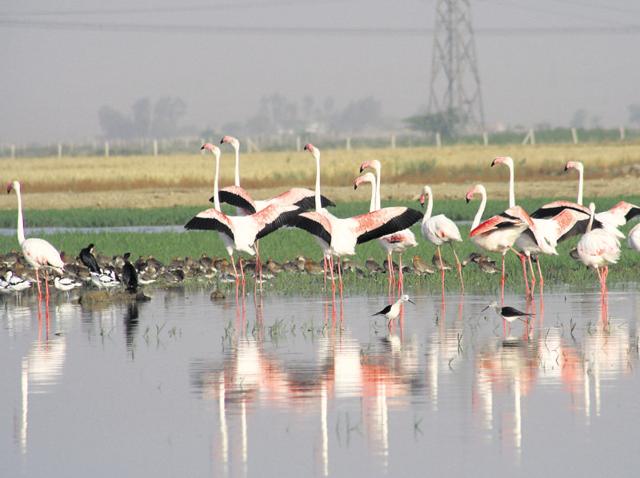 There is also a marked decrease in the numbers of nests of domestic and monsoon migratory birds. According to the official figures, there is an 80% decline in the number of nests when compared to last year. Despite the 352-acre park having a waterbody that spreads across 180 acres, the abundant availability of water has failed to boost nest-making activity in the region.
There is a growing scepticism about the prospects of breeding by monsoon birds as they are building nests outside the park. Officials are hopeful that the situation might change in the coming days.
Birders were of the opinion that because the region is getting fairly widespread rain this year, birds are getting food outside the park, which might be one of the reason for them not breeding at the park.
On the other hand, environmentalists said the present scenario might be because of large-scale construction in the area.
"We believe that because of the good rain, the birds have got plenty of food available outside the park. Thus, they are exploring new horizons. We had built small islands and created a shallow area that is ideal for water birds. However, we fail to understand why birds are not breeding inside the park. These birds include waders (water dependent birds), ducks (require slightly deeper water) and warblers (prefer reeds)," said an expert from Bombay Natural History Society (BHNS), a NGO that is engaged in conservation and biodiversity research.
The breeding season starts around April and ends in August. The early birds which arrive at the park in the first part of the breeding season every year start laying eggs in April and May. These birds comprises lapwing, lark and pipit.
Bird watchers and ornithologists said there is a silver lining to the entire story. Birds such as spoonbill, painted storks, spot bill and sarus crane still have time as they start the process of breeding late.
"We are banking on the birds that will arrive later. We think there will be good breeding. There are many factors that play a vital role in the breeding season and we cannot decide anything now. We are working inside the park and are optimistic about the result. Only when the park reopens in September can we figure out the actual scenario," said Rambir Singh, conservator, wildlife.
Monsoon visitors to Sultanpur
Pied crested cuckoo
Spoonbill
Painted storks
Lapwing, lark, Indian peafowl and pipit arrive in April-May
Spot bill and sarus crane arrive in the park in June-August