Tensions run high over Sheetla Colony mosque row, activist held
Hindustan Times, Gurugram |
HT Correspondent
Sep 22, 2018 04:40 AM IST
Mohammed Shakeel Saifi, chairman, Muslim Yuva Aataankwad Virodhi Samiti, was held by the police for allegedly threatening to break the mosque's seal. Meanwhile, Hindu activists also held protest against Saifi.
Tension around the recent mosque row in Sheetla Colony in Sector 6 remained high on Friday due to protests from both Hindu and Muslim groups.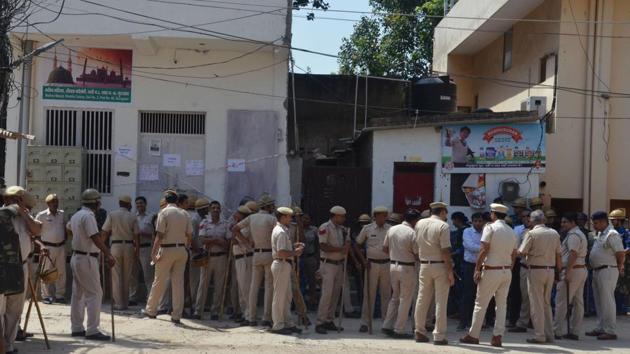 On account of Muharram, a heavy police force remained deployed throughout the day in the Sheetla Colony, where the Municipal Corporation of Gurugram (MCG) had sealed 11 buildings, including a mosque, on September 12. This was done on the grounds that they were located within 300 metres of an ammunition depot of the Air Force and, were, therefore, illegal in nature.
Mohammed Shakeel Saifi, from New Delhi, who claims to be the chairman of an organisation called the Muslim Yuva Aataankwad Virodhi Samiti, was stopped along with his 22 supporters by the police in DLF Phase-3 around 12:30 pm from reaching Sheetla Colony.
Saifi had, on Thursday, allegedly posted on his Facebook page about his plans to break the seal of the mosque in Sheetla Colony. The post was deleted on Friday night. Saifi and his supporters were pre-emptively stopped at the Delhi-Gurugram border in Sector 24 before they could reach the mosque.
Subhash Boken, spokesperson, Gurugram police, said that Saifi and 22 people led by him were stopped from proceeding towards the disputed site, as a preventive measure. They were later let off with a warning.
In a video clip that has been circulating on various social media platforms, Saifi is seen addressing the news media from the spot. "We request the government to unseal the mosque as everyone has a right to pray," he says, before being carried away in a police van. He said they would approach the Haryana chief minister, ML Khattar, if their demand was not met.
Meanwhile, about 10km away, at around 11:30 am, 35 odd protestors belonging to various Hindu groups assembled outside Sheetla Mata Mandir in Sector 6, and began raising slogans against the presence of the mosque and Saifi's plans to break the seal. The protesters then marched to Madina Masjid, where they were confronted by a large police force and were forced to turn away.
Previously, on September 18, representatives of the Jamiat Ulama, a Muslim group, had taken a stand against the Muslim Ekta Manch and its chairman, Haji Shehzad Khan, who has been campaigning on behalf of the Muslim community , which has been affected by recent protests against the installation of loudspeakers at the mosque, and its subsequent sealing.
Mufti Mohammed Salim Qasmi, president of the Gurugram unit of Jamiat Ulama, also called on the commissioner and deputy commissioner of the police to seek their intervention in resolving the matter. However, both the Muslim groups on Friday denied any affiliation to Saifi.