MCG to construct roads using plastic waste in Gurugram
Nov 23, 2018 02:45 PM IST
The city produces about 20 tons of plastic waste daily, which is enough to construct a 10-km-long road, said MCG officials.
Municipal Corporation of Gurugram (MCG) will construct roads using plastic waste from next month onwards, which is more durable and resistant to water, as councillors unanimously gave approval to the proposal during the House meeting held at John Hall, Civil Lines, on Thursday.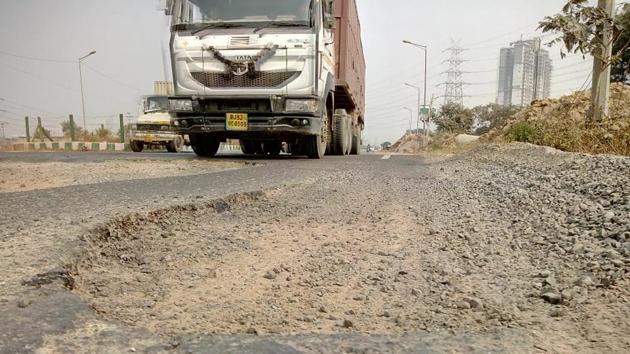 MCG commissioner Yashpal Yadav said plastic waste has become a major obstacle to the city as it clogs drains leading to waterlogging, and creates air pollution when burnt. Hence, the civic body has come up with the idea of using the material in constructing roads, which provides more sturdiness and resistance to water as proved through its usage by civic bodies in cities such as Surat, Kolkata, Chennai and Mumbai, Yadav said.
Stay tuned with breaking news on HT Channel on Facebook.
Join Now
The city produces about 20 tons of plastic waste daily, which is enough to construct a 10-km-long road, said MCG officials.
"To effectively channelize the plastic waste, it can be added to bitumen while constructing roads as it is resistant to water, thereby reducing the chances of potholes formation. We will introduce the concept from December onwards," the MCG commissioner said at the meeting.
House meeting is usually held after a gap of two months, where officials of the MCG and the 35 ward councillors gather and discuss over giving consent or rejection to predetermined agenda listed before them.
The list of proposals is put forward before the House meeting by either officials or councillors for approval. It also serves as a platform for councillors to voice their concerns and shortcoming of the work carried out by the MCG.
The House also agreed on procuring two construction and demolition (C&D) waste mobile units, and hiring a concessionaire for setting up compost plants in societies. The House also discussed the setting up of new slaughterhouses.
Yadav said that the C&D plant being built by IL&FS has hit a roadblock as the concessionaire is facing 'shortage of funds' and hence, the MCG is looking to purchase two mobile C&D units, which will shuttle to the 15 designated sites for C&D waste dumping and convert waste into kerb stones and tiles.
Yadav said that the proposal to purchase two units has gone to the Urban Local Bodies (ULB) for approval, which is expected to be approved by next week.
Besides, a proposal for hiring a concessionaire for establishing waste compost plants in societies was also approved without any opposition. MCG officials said that 16 firms have shown interest for this initiative. Yadav said that unsold compost of residential areas would also be brought by MCG for ₹5 per kilogram and used as manure for cultivating green belts and parks.
During the House meeting, MCG officials said that they had a meeting with the Chinese delegation of Ecogreen, whose Indian subsidiary is the concessionaire for the Bandhwari waste plant and door to door collection of waste, where the latter was asked to 'improve their service' as their performance had been deemed unsatisfactory.
The House then discussed setting up of the city's first licensed slaughterhouse in Sohna. Yadav informed the House that the civic body is looking to impanel slaughterhouses based in Sohna, for allowing meat shop owners to use their services. Yadav said that a decision on finalizing the rates will be done shortly with the slaughterhouse owners as the MCG was awaiting clearance from the House on the matter.
The House also gave approval for leasing of land to the Gurugram police for constructing a police station at Begumpur Khatola. As per police officials, the dilapidated Badshahpur station will relocate to the new site once the police station is constructed.
Councillors' request to install CCTV cameras and traffic lights at key points were the only proposal rejected by the officials, who stated that the Gurugram Metropolitan Development Authority (GMDA) is now looking after these responsibilities.
BOX: Key decisions approved
Using plastic waste for constructing roads
New concessionaire for establishing compost plants in residential areas
Constructing multilevel parking lots from January 2019 onwards
Leasing land for constructing police station at Begumpur Khatola
Impaneling slaughterhouses in Sohna
C&D waste mobile units