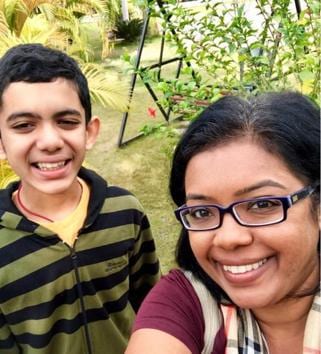 'Has it been easy? No. Has it been worthwhile? Hell, yes'
Rashmi Shetty's son was diagnosed with autism spectrum disorder at three. He's now thirteen. Here's what the journey has been like for her.
Hindustan Times | By Rashmi Shetty
UPDATED ON APR 07, 2018 04:47 PM IST
When Aaditya was 3, I noticed that he didn't speak much. He was still only saying a few basic words, like 'Amma' and 'Bye'. We assumed he was a later starter. But then teachers at his playschool started complaining that he was aloof. We began to notice how irritable he got at family gatherings.
We saw a doctor and got a diagnosis. It was autism spectrum disorder. First came shock, then denial. We asked, why us? It was the only thing I could think about. I would break down regularly thinking of his future. I quit my job with a PR company to be there for him.
I wouldn't use the word autism; I wouldn't let anyone else use it.
Right after the diagnosis, we went on a family vacation to Singapore. It was a nightmare. The flight was delayed and Aaditya was pushing every trolley in sight round and round. I couldn't get him to stop.
On board, he was cranky and grabbing at a co-passenger's food. I became distraught. I heard someone say 'Indian mothers… always spoiling their kids'. I felt like I was failing to handle my child.
The more I read about autism and spoke to other parents, the more I realised how important it would be for me to accept my son as he was. We began using therapies and support groups to find a way forward. We got family and friends involved, which helped normalise the situation for him and for us.
By the time he was seven, I could start my own PR business while working from home.
When Aaditya was 10, we were set to travel to Canada, just the two of us. I was so worried it would be a repeat of the Singapore trip, but the 24-hour flight went smoothly. We had grown to understand each other. He had a loose tooth that was annoying him, but he was being very patient about it. Just before immigration, I helped him pull it out and as we walked up to the officer, he called us a 'brave son and a very brave mother'. That made my day.
Aaditya is 13 now, and teenage has brought with it a new set of problems. He wants to be more independent and have his own space and privacy, which are areas we are learning to navigate. There are times when I want to help him out with daily chores and he rolls his eyes and says I'm being intrusive. Honestly, I think it's just hard for me to let go of the instincts I formed.
We have come a long way. Has it been easy? No. Has it been worthwhile? Hell, yes. I look forward to more experiences together, and to the next curve ball life will throw our way.
— As told to Anesha George
Close