Jacqueline Fernandez reveals her style icon, diet, cheat meals and how she does those complex yoga poses
Updated on Apr 25, 2020 07:42 AM IST
Jacqueline Fernandez speaks to us about her complex yoga routine, diet, cheat meals, Delhi's chole bhature and more.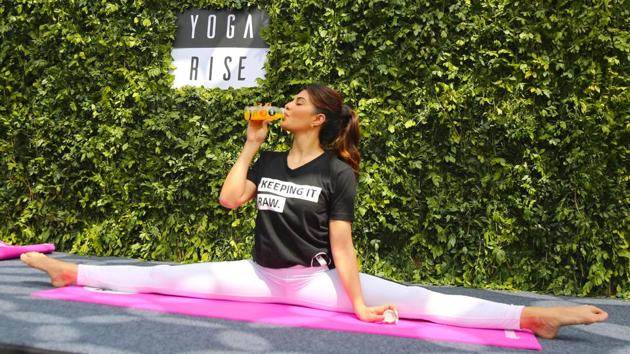 If you visit Jacqueline Fernandez's Instagram account, apart from looking stunning in a range of stylish outfits, you shall notice the actor in various yogic contortions, sometimes upside down, doing a split or a breathtaking cross-legged yoga posture while supporting herself with a pole in mid-air.
Having seen various videos of her at events where she always seemed upbeat and chirpy, we were expecting Jacqueline in her usual avatar, and the yogini didn't disappoint. Behind the happy go lucky and brimming with enthusiasm persona, Jacqueline is a toughie, and it's not only due to her solid yoga routine. Browse through her Instagram posts, and every now and then you will come across a quote, like the one which says, "You're going to be happy" said life. But first I'll make you strong."
And then there's the private side to Jacqueline, which just like in most celebrities we don't know about, but is hinted at in another post, " I like the real you more than the Instagram you."
The winner of the Miss Universe Sri Lanka pageant (2006) was in Delhi recently, and along with RAW Pressery she hosted 'Yoga Rise' at Andaz Delhi in Aerocity, a community-based wellness property launched by RAW Pressery that aims to spread awareness about yoga and health.
We caught up with the actor to speak about yoga, diet, cheat meals, Delhi's chole bhature and more.
You struck a yoga pose on a pole captioned 'Yogini', and on Twitter, it became a viral meme. How long have you been into yoga?
I started my journey with yoga around 10 years back but then left it. All these new fads came in, then there was weight training, pilates- of course, they're all amazing, but I ended up forgetting about yoga. And then just about six months back, I decided that I wanted to do something more holistic and yoga for me was that workout.
It wasn't about building muscle or losing weight or stamina. It was about going down deep inside and seeing what my body can do and taking it there.
I realized that there was a lot more communication happening and a lot more attention given to myself instead of stress and thoughts and work and social media. So I really started enjoying it and am really happy that I got back into it.
Who is your style icon and why?
Kendal Jenner. I think she has really great taste in clothes because she is not overwhelming and at the same time she is classic and keeps things fun.
Do you believe in cheat meals?
Usually, I try to keep a really strict diet throughout the week and only cheat on a Sunday. Sometimes it's a pizza or peanut butter and jelly sandwich with a chocolate milkshake. Having said that, we do travel to a lot of places while shooting movies, so in that case, if there's something that I really crave which I know I won't get again in a long time, that's when I make an exception to the cheat meal.
The author tweets at @shadowwarior and can be reached at kabir.bhandari@htdigital.in