Captain Marvel first look, details: Meet Brie Larson's Carol Danvers who will be Avengers 4's star
Updated on Sep 06, 2018 01:13 PM IST
Captain Marvel first look and plot details are here as Brie Larson suits up for Marvel Cinematic Universe's first female-led film set in the 90s. Also meet Samuel L Jackson's Nick Fury as a desk jockey.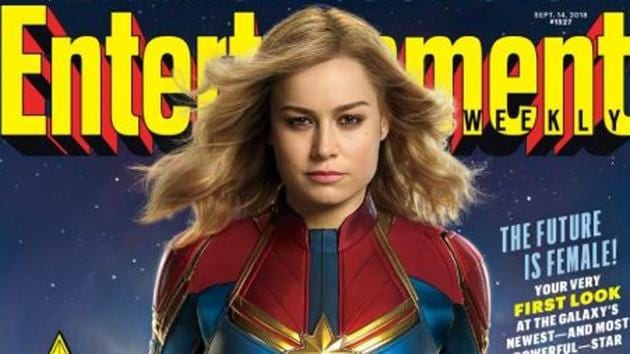 Brie Larson's Captain Marvel has landed. The first look and exclusive details about Marvel Cinematic Universe's first female-led superhero extravaganza was rolled out late on Wednesday night on Entertainment Weekly's website. We not only got a good look at Larson's Carol Danvers but also her friends in the 90s (that is where the film is set, another first for MCU), as well as her enemies.
We first heard of Captain Marvel in Avengers: Infinity War as the superhero paged by Samuel L Jackson's Nick Fury before he crumbles into dust. However, before she helps earth's mightiest heroes save the universe in Avengers 4, she has her own story to tell in Captain Marvel that releases March 2019.
Meet Captain Marvel
Part-Kree, part-human, Carol Danvers is the most powerful hero the MCU has ever seen. An air-force-pilot-turned-superhero, she will play a pivotal part in defeating Thanos' in Avengers 4. Her solo film, 21st in MCU, is the first being headlined by a woman. The film will see her as a part of an elite Kree military team called Starforce, where she is being trained by Jude Law's commander. She will return to earth to fight the Skrulls — Marvel villains who have baddies shape-shifting abilities with Ben Mendelsohn as their leader.
Talking to EW, Larson said, "She can be aggressive, and she can have a temper, and she can be a little invasive and in your face. She's also quick to jump to things, which makes her amazing in battle because she's the first one out there and doesn't always wait for orders."
Film's director Anna Boden, who has helped the film along with Ryan Fleck, told the magazine, "What makes her special is just how human she is... At her core, she has so much heart and so much humanity — and all of its messiness."
Samuel L Jackson's Nick Fury
Nick Fury was still a lowly S.H.I.E.L.D pen-pusher in the 90s. Expect him to be magically de-aged and wearing 90s- appropriate fashion. Earlier, in an interview to Vulture, Jackson said, "Who's really dead, and who's really in the flaky wind of Marvel dust, I don't know, but I do know there's a solution that they didn't even have to tell me, just because I know who Captain Marvel is and what all that means."
Jude Law's Starforce commander
Jude Law plays the commander of Starforce, who mentors Carol. Law said in an interview that the motif of learnings plays a key role in Captain Marvel.
Meet Captain Marvel's villains -- The Skrulls
The Skrulls have a plan to invade the earth and Ben Mendelsohn plays their leader, Talos. Djimon Hounsou's Korath and Lee Pace's Ronan the Accuser were also a part of the Captain Marvel photos released.
Close Story
Personalise your news feed. Follow trending topics