Groot's last words in Avengers Infinity War will make you weep. Twitter is all teared up
Guardians of the Galaxy director James Gunn has revealed Groot's last words in Avengers: Infinity War, and fans are weeping on Twitter.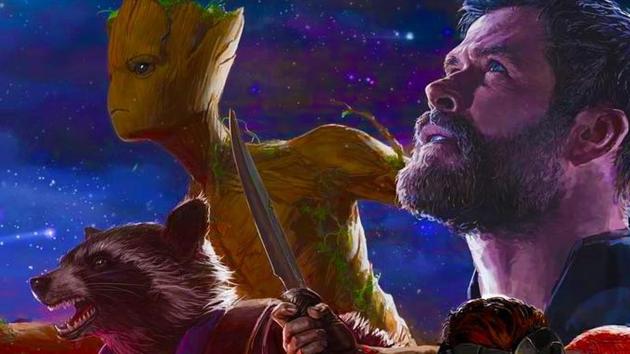 Updated on May 07, 2018 09:59 AM IST
Guardians of the Galaxy director James Gunn, who received an executive producer credit on Avengers: Infinity War, has revealed a tiny detail about fan favourite character Groot that has left Twitter reaching for the tissues. Spoilers for the film follow.
READ | Avengers Infinity War movie review: The God of the Marvel Universe, an epic tragedy
At the end of Infinity War, Marvel's 19th movie, half the Avengers are 'killed' after Thanos, the Mad Titan, wipes out half the Earth's population with the snap of his fingers. Among the victims is Groot, now in his teenage. A Twitter user asked Gunn, who has written and directed both GoTG movies (and is rumoured to have contributed to specific Guardians bits in Infinity War), "Might be too soon to ask this, but do you know what Groot's last line is at the end of the movie?"
Gunn, making sure stray passers-by weren't exposed to spoilers, wrote back, "Dad."
Groot's relationship to Rocket Raccoon - the dad in question - and the rest of his Guardians family, was developed throughout the film. Although he did act distant towards them and largely ignored Peter Quill and Rocket's commands, he didn't hesitate to join Thor in the Avengers' last stand against Thanos in Wakanda.
Gunn had previously clarified that Groot in Guardians of the Galaxy Vol 2 wasn't the same character as the one who sacrificed himself at the end of the first film. He was almost a child of the first Groot, having been born out of his body.
It's clear now, with Gunn's new revelations, that the Groot-Rocket relationship is yet another resonant father-child relationship that appear so frequently in the Marvel movies. After Peter Quill-Ego, Thor-Odin, Tony Stark-Howard Stark, Gamora-Thanos, Peter Parker-Tony Stark, Peter Quill-Yondu and many others, here's another one for the fans to obsess over. Several of them responded to Gunn's tweets with heartbroken messages.
READ | Avengers: Infinity War beats another record, earns $1 billion in 11 days
Avengers: Infinity War became the fastest film to cross $1 billion at the global box office. The film has grossed a record-breaking Rs 200 crore plus in India.
Follow @htshowbiz for more
Close Story