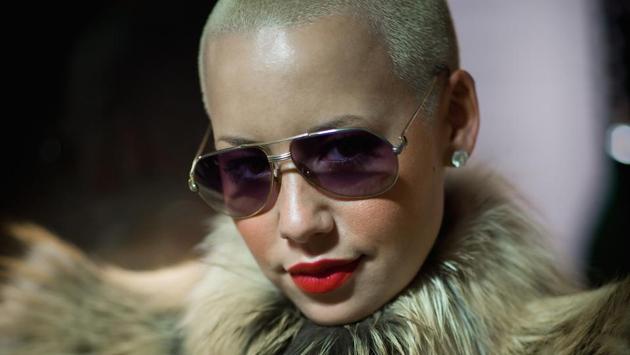 I am waiting for someone to invite me to India: Amber Rose
American model and actor Amber Rose says she wants to visit India soon because her ex-boyfriend Wiz Khalifa told her that it's a must-visit place. She also talks about her personal app that she launched recently to reach out to her fans.
UPDATED ON JUL 29, 2018 04:54 PM IST
Guess who is the latest international celeb looking forward to an India trip? Well, it's none other than American model and actor Amber Rose. And do you know who told her that India is a must visit? It's her ex-beau and close friend Wiz Khalifa. The hip-hop star, who performed last year in India, told Amber that she must experience the wonders of the country and its culture.
"Wiz is my best friend and ex-boyfriend… He is such an amazing guy. He told me about the wonderful time he had in India... about how beautiful the country is. He said that I should definitely go, meet the people, experience the culture. He also told me how everyone is nice and welcoming," Amber sounds excited talking about India.
Read| Wiz Khalifa on his maiden India visit: I am looking forward to creating my own stories
Ask her when she plans to touch down and she says she would love to do that soon. "Someone has to invite me there, I am ready to go… (Laughs). To be honest, I don't know much about India. I have watched music videos online and loved them, I also love Indian women they are so beautiful. And I have also heard about Indian food," adds Amber, who recently launched her personal app. The idea of the app came about because she wanted 'to have an original concept' for her actual fans and will include photos and videos of her friends from different cultures and communities, even the LGBTQI. After all, her body positivity and inclusivity movement for "women of all different shapes and sizes" has inspired many.
+ +
And though she has launched the app, Amber confesses that she is a little aversive of social media. "I feel like on Instagram and or other social media applications there are a lot of people, who may not necessarily like you, but follow you anyway. Those who follow my social media pages will see that I don't show my actual personal life," she says, adding, "She neither feels the urge nor think it's necessary (to do so)."
Talking about social media, Amber shares cute photos and videos of her son Sebastian Taylor Thomaz. So what's mommy and sonny's favourite past time together? "I am a full-time mom and I am businesswoman too. So at times, I even take my son to work with me and he really enjoys that. We go for swimming a lot, bake together, I take him to amusement parks, science, history museums… We do so much together all the time," she smiles.
+ +
A conversation is incomplete with Amber if we don't ask her about her being reportedly dating with NBA star Monte Morris, who plays for the Denver Nuggets. Asked to comment on their relationship, Amber first tried to avoid the question and when prodded further, the answer was, "We are very good friends right now and that's about it."
Author tweets @Shreya_MJ
Follow @htshowbiz for more
Close