Independence Day Resurgence trailer: Oh my God, we're all going to die
The new Super Bowl spot for Independence Day: Resurgence promises two things: The world's definitely ending and Roland Emmerich is the only man in the world who can spear London with the Burj Khalifa. Watch.
hollywood
Updated: Feb 08, 2016 16:35 IST
Remember when you first saw the trailer for 2012 with all its mountain tsunamis and crashing Basilicas and thought, no, they surely can't ever top this. Well, you underestimate Roland Emmerich because in the new trailer for Independence Day: Resurgence, we have what looks like the Burj Khalifa spearing London in the Thames.
Watch the trailer here
The whole thing is as jingoistic as the first time around. We saw a new version of that iconic Presidential speech in the last trailer and here, keeping with the Super Bowl theme, the entire 40 second spot is scored to the American National Anthem. No matter how much you detest their foreign policy, when those jets soar past in the most amazing flypast ever, you're getting those goosebumps. Don't even try to resist because this movie looks like a glorious throwback to the greatest era of action movies: The '90s. And in 40 seconds, it'll totally win you over. Watch: Jason Bourne first trailer: Reborn Matt Damon packs a punch
Watch: X-Men Apocalypse trailer: Even J-Law can't save the world
We always knew the aliens were coming back, and as it turns out, humanity took precautions this time. They made use of the leftover alien tech and made weapons out of them. So this time, when they return with even larger ships, Liam Hemsworth is prepared.
The level of mayhem in this trailer is crazy. It's as if Roland Emmerich watched his entire filmography, mashed up all the scenes of mass destruction and squeezed them in here. And then, he went and marathoned the entire filmography of Michael Bay (Pain & Gain and all) and added that in for good measure. Some of the CGI looks really spotty in certain shots and we're hoping they fix it in the next few months, but aside from that, this looks like the summer action flick to slay all summer action flicks. There's no denying Emmerich's movies are brainless but could anyone else come up with that Burj Khalifa thing? Even the most resistant uptight Bergman fan can't deny this looks cool as hell.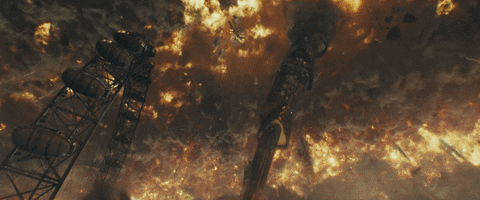 Independence Day: Resurgence stars Liam Hemsworth, Bill Pullman, Jeff Goldblum and Maika Monroe. It arrives on June 24.
Follow @htshowbiz for more
First Published: Feb 08, 2016 15:02 IST