Iron Man gets a bullet in the face in Captain America: Civil War trailer
Captain America, Iron Man and the rest of Avengers have chosen their sides and the war is now coming to us... Marvel fans, this is the end game.
hollywood
Updated: Feb 08, 2016 16:20 IST
Avengers have all chosen their sides and a war is upon us. And now, Marvel fans, you have to decide where you stand.
The 30-second slot which opened the Super Bowl trailers on Sunday night is tense, stress-filled and explosive. It begins with Avengers taking sides and an explosion which is likely to be the catalyst of war.
Read: I was stupid to doubt Marvel, says Cap Chris Evans
As mayhem takes over and people get hurt, Iron Man ominously tells an unseen audience: "You chose the wrong side". This is right after someone fires a bullet point blank in his face. He survives or not? Hell, we are talking about the man with the iron suit and SO much tech wizardry.
While there is a conscious effort to put the film out as Captain America 3, it is increasingly looking like a sequel to Avengers with a lot of famous faces standing up to be counted. However, Spidey – expectedly – is still missing in action.
Here's taking a stab at the film's plot: The film begins with Cap leading the newly formed team of Avengers in their continued efforts to safeguard humanity. But after one of their ops end in collateral damage, the government appoints a governing body to oversee and direct the team. The new system results in two camps—one headed by Cap demanding Avengers remain free and the other led by Tony Stark who, surprisingly, supports government's decision.
It is scenes like this which remind us that this is war and the wizardry of Tony Stark's glove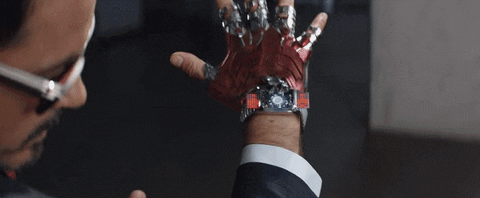 Robert Downey Jr. and Chris Evans return as Iron Man and Captain America, respectively. Scarlett Johansson, Sebastian Stan, Anthony Mackie, Emily VanCamp, Don Cheadle, Jeremy Renner, Paul Bettany, Elizabeth Olsen, and Paul Rudd are also returning to the franchise.
Tom Holland's Spider-Man and Chadwick Boseman's Black Panther will be making their Marvel debut with this film.
Captain America: Civil War, directed by Joe and Anthony Russo from a script by Christopher Markus and Stephen McFeely, will hit theaters May 6 in the US.
First Published: Feb 08, 2016 16:15 IST