Toy Story 4's trailer lights up Twitter with jokes about Andy's plastic surgery, Sporky's existential crisis
Toy Story fans are laughing and crying at the brand new trailer for the fourth instalment of the series. Check out the best reactions.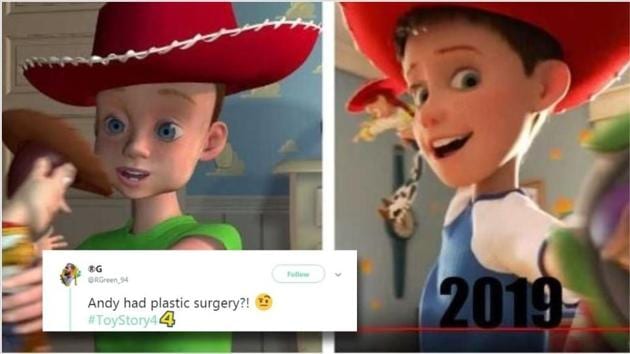 Updated on Mar 20, 2019 01:20 PM IST
Disney and Pixar shared the first full trailer for the upcoming fourth part of animated series, Toy Story. The trailer brings back Tom Hanks as the voice of Woody, as he makes a new friend and finds a few long lost ones along the way. But what got fans talking the most was the heavily altered face of Andy, the toys' owner in the previous three films.
The trailer begins with Woody introducing his friends to Sporky, a friend made by Bonnie at her school with a salad spork, a few twigs, some bubble gums and googly eyes. The spork isn't ready to live his life as a toy and runs away at the first chance. Woody knows how much the spork means to Bonnie and so he also runs after the confused cutlery to chase him down and bring him back.
The big twist arrives when Woody runs into Bo Peep, his old girlfriend. She introduces him to the wonderful world of an amusement park and asks him to stay back. Woody appears to be giving in to the lure of the big park, and so his friends back home make it their mission to bring him back.
Since the trailer's release, fans on Twitter have made jokes about how much they relate to Sporky and the plastic surgery on Andy's face. "(Sporky) just became the most relatable movie character to ever exist," wrote a fan. "Rest In Peace crackhead Andy," wrote another. Check out more reactions:
Toy Story 4 releases on June 21st and is directed by Josh Cooley. Toy Story is one of the most successful movie franchise of all time. Toy Story 3 made more money at the box office than the first two films combined. It made $1.06 billion worldwide.
Follow @htshowbiz for more
Close Story