Watch Tom Cruise, Henry Cavill's bone-crunching fight from Mission Impossible Fallout
Jul 13, 2018 10:59 AM IST
Tom Cruise and Henry Cavill team up in a new clip from Mission: Impossible - Fallout. Watch the bone-crunching fight scene here.
Paramount Pictures has released a bone-crunching new clip from the upcoming sixth Mission: Impossible film, Fallout. The 40-second clip teases the bare-knuckle bathroom brawl between Tom Cruise's Ethan Hunt and two new characters, played by Henry Cavill and stuntman-turned-actor Liang Yang.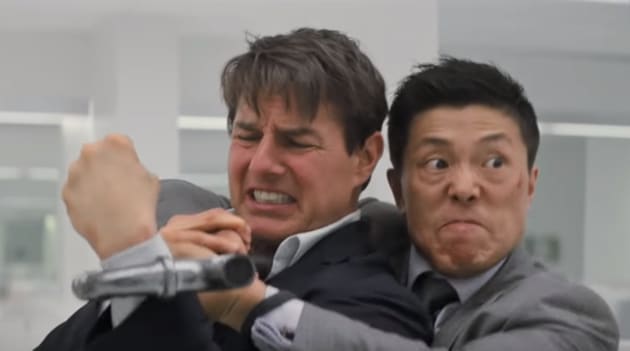 In the clip, it's difficult to understand who's on whose team. It appears that Cruise and Cavill have momentarily teamed up against Lark Decoy, Yang's character. Bathroom walls are broken, mirrors are shattered, pipes are pulled out of stalls.
Cruise, who's considered to be one of the world's greatest living action stars, is fluid in the fight - which he probably shot himself, the hands-on performer that he is. Director Christopher McQuarrie brought a rugged '70s aesthetic to the MI series after having worked with Cruise on the similarly old-fashioned Jack Reacher.
The highlight of the fight comes at the end, when Cavill rips off his jacket, flexes his muscles, and pounds Decoy.
Cavill is one of the many new additions to the cast of Mission: Impossible - Fallout. He plays the mysterious August Walker. Other newcomers include Vanessa Kirby, Angela Basset and Wes Bentley.
Returning cast members include Ving Rhames, Simon Pegg, Michelle Monaghan, Alec Baldwin and Rebecca Ferguson. Like director McQuarrie, who is the first director to helm to films in the franchise, Sean Harris is the first actor to return as the primary antagonist.
The film has been receiving immensely positive early buzz, with critics comparing the experience to sex and drugs, and calling it the best action blockbuster since Mad Max: Fury Road. The film has a 98% rating on review aggregator site, Rotten Tomatoes, based on 40 reviews.
The film will be released in India on July 27.
Follow @htshowbiz for more