Asean could be the role model for Saarc
Dec 02, 2014 08:53 AM IST
Asean is a good example for Saarc, particularly for India and Pakistan, to realise the value of cooperation and benefits resulting from a larger common market despite diversity in politics and religion, writes Syed Munir Khasru.
The 2014 Saarc Summit, which started with high expectations, ended low on delivery. The rivalry between India and Pakistan continues to frustrate efforts to integrate South Asia. Prime Minister Narendra Modi remarked in his opening speech that "Himalaya today is calling us to act. Let us work to change cynicism into optimism."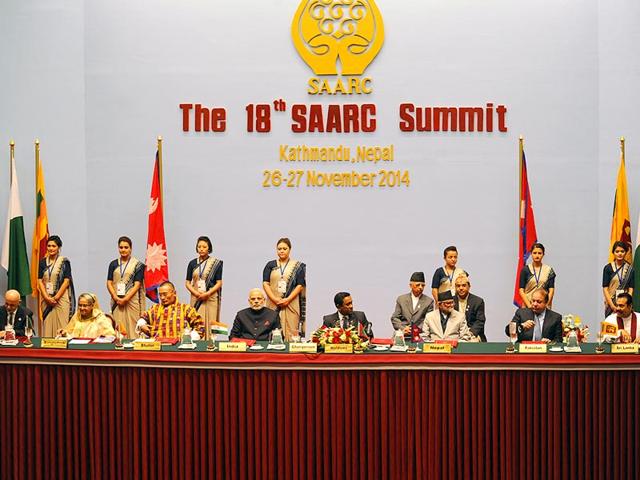 His Pakistan counterpart, Nawaz Sharif, stated: "We should build on convergences and minimise divergences." In reality, when even a gesture as small as Modi shaking hands with Sharif becomes news, it exposes the kind of congeniality prevailing in Saarc. The face-saving energy cooperation deal, so essential for the electricity-starved region, came about only after behind-the-scenes jockeying to get Pakistan on board as the summit ended with little tangible progress.
The unfortunate reality is that, with abundant natural resources and more than 1.5 billion people, Saarc has the potential to become the world's largest economy after the United States and China and is perceived as the next largest consumer market buoyed by steady economic growth and a booming middle class. For example, India's middle class is expected to reach 550 million by 2025-26, more than the combined forecasted population of Britain, Germany, France, Italy and Spain of 330 million. Yet, Saarc is failing to harvest the benefit with intra-Saarc trade of only 5%, compared to Asean's 32%, the EU's 50% and NAFTA's 65%.
While Saarc is high on rhetoric and low on performance, Asean has the momentum by becoming the centre of two emerging mega regional trade blocs — Regional Comprehensive Economic Partnership (RCEP), championed by China, and Trans Pacific Partnership (TPP), promoted by the US. The fact that India is the only Saarc country to be part of the RCEP and not the TPP, signifies how unimportant Saarc has become compared to Asean as far as global trade and investment are concerned.
Asean is a good example for Saarc, particularly for India and Pakistan, to realise the value of cooperation and benefits resulting from a larger common market despite diversity in politics and religion. In 1975, Asean nations signed the treaty of amity and cooperation, adopting the principles of renunciation of threat or use of force and settlement of disputes by peaceful means. The shared conviction of creating an economically win-win situation mobilised the nations in forming an interdependent regional economy.
The Asean Regional Forum was created in 1994 to foster dialogue, promote confidence-building, and adopt preventive diplomacy. A similar forum for Saarc will not only create room for deliberations but also bolster the fragile diplomatic relations.
To pave the way for Saarc's integration India-Pakistan rivalry has to stop and this calls for bold leadership. Given that India occupies 70% of the Saarc region, both geographically and economically, India has the onus to bring Saarc nations together, as stated by Modi: "I know India has to lead, and we will do our part." Whether he walks the talk remains to be seen.
For Saarc to progress, it must first capitalise on less contentious issues. Short-term success will create the momentum to work on long-term goals of regional connectivity, resource sharing, and investment. A good start can be adopting a 'South Asia First' policy, making Saarc countries import products first from within the region. For example, major garment-manufacturing countries like Bangladesh and Sri Lanka import more than 80% of raw materials from outside Saarc, even though India and Pakistan are net exporters in this sector.
Leaders will need Himalayan heights of vision and courage to make Saarc a success. Whether Modi and his South Asian colleagues will rise to the occasion to unleash a new era of regional cooperation or Saarc will continue to languish in the abyss of historical mistrust and myopic economic vision is something the 1.5 billion people of South Asia will have to wait and see, even 30 years after Saarc's existence.
(Syed Munir Khasru is chairman, Institute for Policy, Advocacy, and Governance, Bangladesh. The views expressed by the author are personal.)
"Exciting news! Hindustan Times is now on WhatsApp Channels
Subscribe today by clicking the link and stay updated with the latest news!"
Click here!