'Raincoat not jacket': Congress on Rahul Gandhi amid Bharat Jodo. Watch
Jan 20, 2023 03:46 PM IST
The Bharat Jodo Yatra - which is in its last leg- is set to conclude later this month.
Rahul Gandhi was wearing a "raincoat" and not a "jacket", the Congress said on Friday amid buzz that he was seen wearing layers for the first time during the Bharat Jodo Yatra even as mercury continued to dip while north India was covered. Gandhi's white t-shirt - during the Kanyakumari to Kashmir foot march - has made headlines so often that he has even been attacked by his rivals. The former Congress chief recently shared an incident that prompted him to avoid wearing jackets or sweaters despite the winter chill. "I had met two children during the foot march who did not have the means to layer up. And that's when I had resolved that I won't layer up till I feel cold," he had said during a press briefing.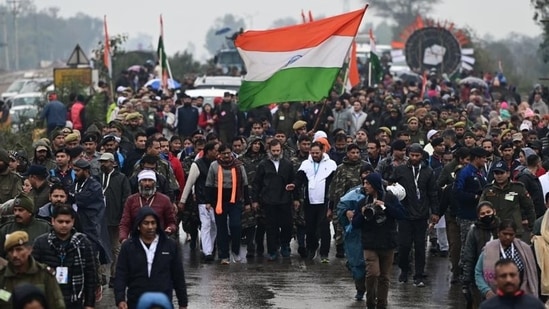 The Congress's Bharat Jodo Yatra is in Jammu and Kashmir now. As he was seen wearing a wind-cheater, it generated huge buzz on social media. But the party on Friday afternoon clarified: "It's a Raincoat, not Jacket! Rain over, Raincoat gone … (sic)" The party also posted a video showing him taking off the wind-cheater. Earlier, the grand old party had posted a clip, saying that the downpour could not stop the footmarch.
The Congress's mass contact programme is set to conclude on January 30 and more than 20 parties have been invited to join the Yatra, Jairam Ramesh had earlier said. On Thursday, as the Yatra entered the union territory, Rahul yet again hit out at the BJP and RSS. "BJP and RSS are spreading hatred but since I walked from Kanyakumari to Kashmir, I can guarantee that this hatred hasn't gone down deep into the people. You will definitely see it on TV channels because media persons are being controlled by BJP," he said.
The mass contact programme - which drew praise from many for the party and Rahul Gandhi - was seen as the party's attempt to revive the grassroot connect ahead of the mega election season.