2 men arrested in Patna for drinking on board IndiGo flight from Delhi
Avinash Kumar & Neha LM Tripathi
Jan 09, 2023 03:26 PM IST
Nitish Kumar and Rohit, the two passengers, were handed over to the local police after the flight landed in Patna
Two passengers were on Monday arrested from the Patna airport for drinking on board an IndiGo flight from Delhi, people aware of the matter said.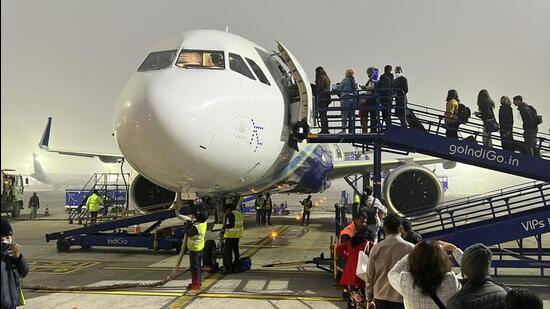 Nitish Kumar and Rohit, the two passengers, were handed over to the local police after the flight landed in Patna. Their friend Pintu managed to escape and the police were looking for him.
An IndiGo official said a co-passenger noticed they were having alcohol and complained to the crew. "They carried liquor..." the official said, requesting anonymity
A second official said the passengers "created discomfort" to their fellow passengers and the pilot alerted the Patna airport authorities and the security staff as carrying liquor is against civil aviation rules. "The passengers were arrested on the basis of the airline's complaint."
In a tweet, the airline said the matter is under investigation. "We would like to clarify that there was no altercation on board the aircraft as what is being reported in some sections of social media."
Binod Peter, the in charge of Patna's airport police station, said IndiGo handed over the two to them and their breathalyzer test confirmed they were drunk. "In its complaint, the airline has not alleged misbehaviour or scuffle. The matter is being investigated."
The two were arrested days after it came to light that a drunk man urinated on a co-passenger in the business class of Air India's November 26 New York-Delhi flight.
Air India came under fire from within and outside as details emerged of the incident. The crew allegedly did little to help the affected person.