2 women suspected of killing 16 puppies in Kolkata, video sparks outrage
A video showing two women clobbering to death 16 puppies allegedly within the premises of a state-run city hospital on Monday has triggered shock and outrage in Kolkata.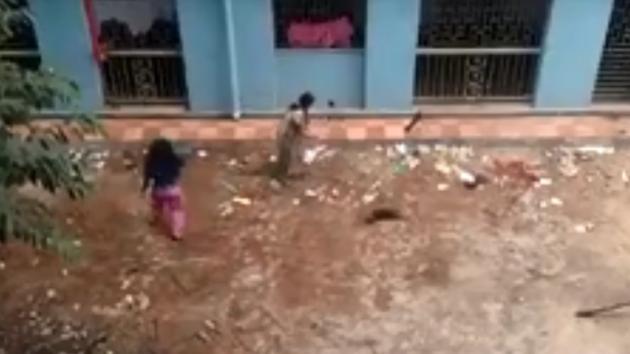 Updated on Jan 14, 2019 11:45 PM IST
A third-year female nursing student and another woman are believed to have clubbed to death 16 puppies inside the campus of the state-run N R S Medical College in the city in an incident that was filmed and went viral, horrifying and outraging anyone who saw the clip.
According to hospital officials, a fellow student identified one of the two women seen beating the pups as a third year nursing student. Hindustan Times could not independently confirm this. The second woman seen in the 25-second clip remains unidentified.
A three-member probe team led by the deputy superintendent of NRS Hospital will formally summon the third-year student for questioning on Tuesday.
"We have got a name. We have also communicated this to the principal of the nursing college and to the police," said Daipayan Biswas, deputy superintendent of the hospital leading the probe.
An FIR was registered at Entally police station on Monday. A group of animal rights activists demonstrated at the police station demanding prompt action.
"On Sunday afternoon, I was attracted by the cries of the puppies. When I looked out, I saw two women beating the pups with sticks. When I shouted to them to stop, they shouted back asking whether I would protect them if the dogs bit them," said a resident of the hostel of adjoining state-run Dr R Ahmed Dental College and Hospital, the building of which overlooks the narrow passage where incident happened.
WATCH | Video shows 2 women thrashed 16 puppies to death in Kolkata
Read: Stray dog menace in your locality? Here are ways to deal with the situation
"When they continued, one of our students shot the video clip and uploaded it on Facebook," said the dental college student, who refused to be named.
The carcasses were found on Sunday afternoon in front of a deserted spot where waste from the college's gynaecological department is dumped. Post mortem revealed that while four were killed by hits to the head, blows to the abdomen proved fatal for rest. No arrests have yet been made.
The shocking incident comes just about a fortnight after a teacher Samir Acharya and his wife, residents of Kolkata's Panskura town alleged that all 18 of their pet cats were poisoned by some college students.
The maximum punishment for killing a dog or cat in India is five years in jail under Section 429 (mischief by killing, poisoning, maiming any animal) of the Indian Penal Code.
Close Story
Personalise your news feed. Follow trending topics